Story Progress
Back to home
Gooey S'mores Pie Recipe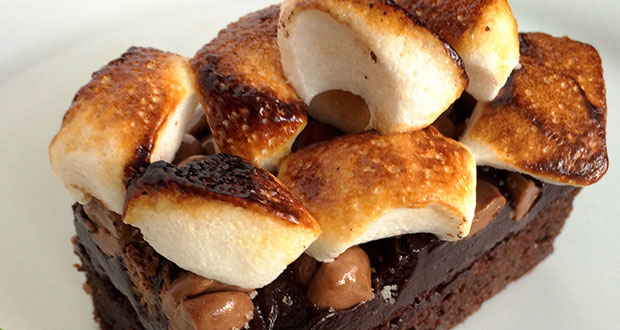 After eating these mini s'mores you would definitely want some more. Don't miss out this recipe!

Ingredients of Gooey S'mores Pie
8 ½ tbsp of butter
5 tbsp of dark chocolate
13 ¼ tbsp of caster sugar
3 eggs
4 tbsp of flour
2 tbsp of coco powder
100 gm of dark chocolate chips
100 gm of milk chocolate chips
200 gm of marshmallow
1.
Melt the butter and dark chocolate in a microwave.
2.
Whisk eggs and sugar till fluffy.
3.
Sieve the flour and cocoa powder together and mix with the egg batter.
4.
Combine the egg batter with the butter and chocolate mixture.
5.
Mix the batter well, then pour into a greased mould and bake at a 180*C for 20 minutes.
6.
Cool the sponge to room temperature, then cut into 10 equal pieces.
7.
Sprinkle the chocolate chips over the pieces of sponge, arrange the marshmallows over
9.
Use a blow torch or a hot griddle to scorch the marshmallows to a golden brown.