Story Progress
Back to home
Governor's Chicken Recipe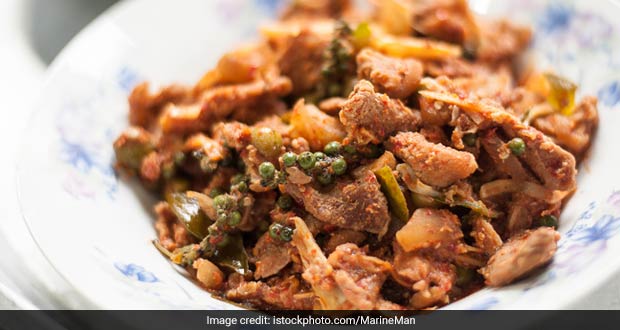 How to make Governor's Chicken
Dipped in egg, wine and cornflour, chicken is deep fried and doused with sauce.

Ingredients of Governor's Chicken
1/2 Kg Chicken legs(diced)
2 Tbsp Cashew nuts
2 Large Dried Red Chillies
1/2 tsp Chilli powder (coarse)
1 tsp Chinese Peppercorns
To taste Salt
For frying Sesame Oil
3 tsp Garlic cloves, chopped
3 Spring Onions, chopped
3 tsp Cornflour
2 Tbsp Egg (beaten)
To taste Sauce
2 tsp Sugar
2 Tbsp Vinegar
1 Tbsp Soya Sauce
2 Tbsp White Wine
100 Ml Chicken stock
1.
Mix the chicken with beaten egg, white wine, corn flour and salt. Set aside for 30 minutes.
2.
Deep-fry the chicken in warm oil until tender.
3.
For the sauce, combine vinegar, soya sauce, sugar, white wine, corn flour and chicken stock. Fry the chillies, peppercorns with ginger, garlic and chilli powder.
4.
Return the chicken to the pan and add sauce, spring onions and cashew nuts. Serve hot.
Key Ingredients: Chicken legs(diced), Cashew nuts, Dried Red Chillies, Chilli powder (coarse), Chinese Peppercorns, Salt, Sesame Oil , Garlic cloves, Spring Onions, Cornflour, Egg (beaten), Sauce, Sugar, Vinegar, Soya Sauce, White Wine, Chicken stock