Story Progress
Back to home
Coq Au Vin (Chicken Braised in Wine) Recipe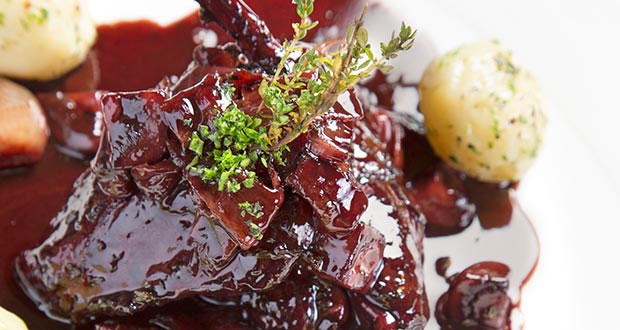 How to make Coq Au Vin (Chicken Braised in Wine)
About Coq Au Vin (Chicken Braised in Wine) Recipe: Ask any good cook and he'll tell you that the secret to good French food is butter. And that's exactly what makes Coq Au Vin a rich, creamy and magical experience.

Ingredients of Coq Au Vin (Chicken Braised in Wine)
For marination:
1500 ml red wine (full body)
100 gms onion, sliced
30 gms celery stalks, sliced
100 gms carrot (sliced), peeled
20 garlic cloves (flattened), peeled
1 tsp whole black peppercorns
2 tbsp olive oil
4 Chicken halves (with bone and skin on)
Cooking chicken:
1 tbsp olive oil
150 gms bacon slices (thick)
3 tbsp all purpose flour
60 gms onion, chopped
10 garlic cloves, chopped
1 tsp thyme sprigs, chopped
2 tsp parsley sprigs
2 small bay leaves
200 ml chicken stock
50 gms butter
150 gms button mushrooms
For marinating chicken:
1.
Combine wine, onion, celery, carrot, garlic, and peppercorns in large pot and bring to boil over high heat. Reduce heat to medium and simmer 5 minutes. Cool completely; mix in oil.
2.
Place the chicken pieces in a large bowl and pour the wine mixture over it. Cover and refrigerate for at least 12 hours and up to 24 hours, turning the chicken occasionally.
Prepare chicken:
1.
Using tongs, transfer chicken pieces from marinade to paper towels to drain; pat dry.
2.
Strain the marinade and reserve the vegetables and liquid separately.
3.
Heat oil in heavy large pot over medium-high heat. Add bacon and saute until crisp and brown. Using slotted spoon, transfer bacon to small bowl. Add chicken, skin side down, to drippings in pot. Saute until brown, about 3 minutes per side.
4.
Transfer chicken to large bowl and add vegetables reserved from marinade to the pot. Saute until brown, for about 6minutes. Mix in flour and stir for about 2 minutes. Gradually whisk in reserved marinade liquid. Bring to boil, whisking frequently. Cook until sauce thickens, whisking occasionally, for about 2 minutes.
5.
Mix in the shallots, garlic, parsley, and bay leaves, stock. Add chicken and bring to simmer; reduce heat to medium-low. Cover pot and simmer chicken 20 minutes. Using tongs, turn chicken over. Cover and simmer until tender, about 10 minutes longer.
6.
Melt butter in heavy large skillet over medium heat. Add mushrooms and saute until tender, for about 8 minutes. Transfer mushrooms to plate.
7.
Melt butter in the same skillet. Add onions and saute until beginning to brown, about 3 minutes. Transfer onions to plate alongside mushrooms.
8.
Using tongs, transfer chicken to plate. Strain sauce from pot into reserved skillet, pressing on solids in strainer to extract all sauce; discard solids. Bring sauce to simmer, scraping up browned bits. Return sauce to pot.
9.
Add mushrooms and bacon. Simmer uncovered until sauce is slightly reduced, about 8 minutes. Tilt pot and spoon off excess fat from top of sauce. Season sauce with salt and pepper. Return chicken to sauce.
10.
Cook for another 2 minutes and arrange chicken on plate and sprinkle with parsley. Serve hot.