Story Progress
Back to home
Grilled Lamb Chops Recipe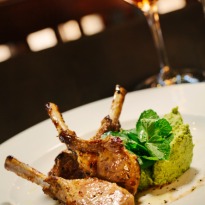 Marinated lamb chops bursting with juicy flavours and hot spices. Grill it to perfection and serve hot with fresh vegetable salad and a tangy vinegar dressing.

Ingredients of Grilled Lamb Chops
4 chops of lamb
2 Tbsp hung curd
1 tsp shahi jeera
2 Tbsp ginger-garlic chopped
1 tsp red chilli powder
1 tsp garam masala
1 tsp green chilli
1 tsp chopped coriander
1.5 tsp pineapple juice
1 tsp chopped mint leaves
Olive oil to grill
For the dressing:
2 Tbsp olive oil
1 tsp shallots
1 tsp chopped spring onion
2 Tbsp malted vinegar
Salt and pepper to taste
Mixed vegetables:
One bowl mixed lettuce
2.5 Tbsp chopped bell peppers
10 gm cherry tomatoes
2 Tbsp chopped asparagus
2 Tbsp chopped cucumber
2 Tbsp green olives
2.
Grill them till required.
3.
Saute blanched spinach in a little olive oil with garlic flakes and chopped onions.
4.
In a plate, arrange grilled lamb chops on a bed of sauteed spinach.
5.
Garnish with chopped parsley, mixed garden salad with vinegar dressing
For the vinaigrette dressing and mixed garden salad:
1.
Mix all the ingredients and whisk together.
2.
Add all the vegetables in a bowl and toss well.
3.
Pour the dressing on top and serve.