Story Progress
Back to home
Hamburgers and Fries Recipe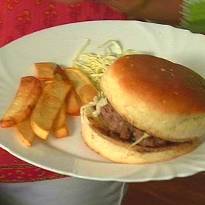 Succulent mutton patties pan fried to create an oozing luscious hamburger. Served with potato fries, some coleslaw, mustard and ketchup.
Total Cook Time

1 hr 10 mins

Ingredients of Hamburgers and Fries
250 gm minced mutton
4 Tbsp onions - finely chopped
1/2 tsp ginger-garlic paste
1/2 tsp black pepper powder
Salt - to taste oil
3-4 Tbsp butter
3-4 burger buns
4 tomato slices
4 onion slices
Coleslaw (optional)
Mayonnaise (optional)
For French Fries:
3-4 large potatoes
Salt - to taste
Pepper (optional)
Oil - for deep frying
1.
Mix the minced mutton, onion, garlic-ginger paste, salt and pepper together.
2.
Shape the mixture in 3 or 4 round patties and refrigerate for an hour.
3.
Pan fry these patties by browning both sides over a high heat, then lower the heat and let them cook through and remove.
4.
In the same pan, melt some butter, slit the buns in half and semi-toast them in the butter.
5.
Now make the hamburger with onion and tomato slices, coleslaw or mayonnaise.
6.
Serve with ketchup or mustard and fries.
For French Fries:
1.
A double fry method for making crispier fries.
2.
Peel and slice the potatoes into 'fingers'.
3.
Boil some water with a pinch of salt.
4.
When it boils, add the potatoes, switch off the fire and leave for 5-6 minutes.
5.
Take the potatoes out and drain them well or wipe dry.
6.
Heat oil in a pan and add the potato fingers.
7.
Lower the heat to medium and fry till they become light golden. (half cooked)
8.
Then remove from the oil and drain.
9.
Just before serving fry the same potato fingers again over a high heat till golden brown.
10.
Sprinkle some salt and pepper and serve.