Story Progress
Back to home
Hariyali Machli With Onion Pulao Recipe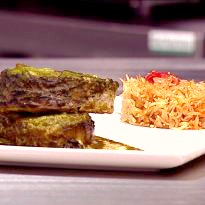 How to make Hariyali Machli With Onion Pulao
About Hariyali Machli With Onion Pulao Recipe: A succulent fillet of fish cooked in an aromatic sauce made of mint, coriander and chilli, served with a smoky brown rice.
Total Cook Time

1 hr 05 mins

Ingredients of Hariyali Machli With Onion Pulao
8 Pieces Rohu fish (4.5"x 2.5" (rectangular, single serving fillet)
2 Bunch Green coriander
2 Bunch Mint
12 Green chillies
1/2 Kg Yogurt
2 Lemons
1/2 Cup Oive oil
3 tsp Salt
3 tsp Cumin seeds
1 tsp Garam masala
1 Cup Cooking oil
2 Medium Onions, sliced
1 Tbsp Garlic paste
1/2 tsp Red chilli powder
For the rice:
6 Whole red chillies
1 Cup Basmati rice
As required Water
2 Tbsp Ginger paste
1 Tbsp Garlic paste
1 tsp Salt
2 Medium Onions, sliced
For the garam masala:
2 tsp Coriander seeds
1 piece Cinnamon stick
3 tsp Cumin seeds
1.
Marinate the fish with chilli flakes and salt (1tsp). Leave while you make the other preparations.
2.
Grind coriander, mint, green chilies, yogurt, lemon, olive oil, salt (1tsp) and cumin (3tsp) into a smooth green paste. This is the green masala to be used later.
3.
Make garam masala mix with coriander seed, cumin, cinnamon. Keep aside.
4.
In a pan, heat a little cooking oil and saute onions for the fish till brown.
5.
Add to the pan the garlic paste, red chilli powder, garam masala and salt (1 tsp). Then add the green masala. Let it simmer and cook for 8 minutes.
6.
As the above green curry cooks and oil is released, add in the fillet of fish and cook till fish is done.
7.
Serve with a garnish of lemon and green chilli.
Prepare the rice:
1.
In a separate pan, brown onions in cooking oil for rice. Add in fresh grated ginger and garlic paste. Add in red chilli and salt (1 tsp).
2.
Add a dash of water and once masalas have cooked, add in the rice. Add enough water for the rice to boil and cook till rice is done.
Key Ingredients: Rohu fish (4.5"x 2.5" (rectangular, single serving fillet), Green coriander, Mint, Green chillies, Yogurt, Lemons, Oive oil, Salt, Cumin seeds, Garam masala, Cooking oil, Onions, Garlic paste, Red chilli powder, Whole red chillies, Basmati rice, Water, Ginger paste, Garlic paste, Salt , Onions, Coriander seeds, Cinnamon stick, Cumin seeds