Story Progress
Back to home
Hot and Sour Fish Recipe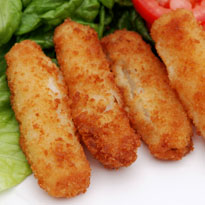 Dipped in a mixture of flours, beer and egg whites, fish is deep fried and served with pineapple
Total Cook Time

45 mins 30 seconds

Cook Time

30 mins 30 seconds

Ingredients of Hot and Sour Fish
150 gm flour
50 gm corn flour
1 egg white
150 ml beer
150 ml iced water
2 tsp grated lemon rind
750 gm fish fillets
2-3 tbsp extra flour
oil for deep frying
1 tbsp peanut oil
2 tsp chopped ginger
2 tsp chopped garlic
8 spring onions - cut into 1
2 sticks celery - sliced
3 chopped pineapple
75 ml lemon juice
2 tbsp soya sauce
75 ml mild, sweet chilli sauce
2 tbsp tomato sauce
2 tbsp chopped coriander
1.
Sift flour and corn flour into a bowl.
2.
Add egg white, beer, water and rind. Stir till smooth.
3.
Toss fish in extra flour. Dip in batter.
4.
Deep-fry in hot oil until colored. Drain.
5.
Heat peanut oil in a large pan.
6.
Stir in garlic, ginger, spring onions, celery and pineapple. Stir-fry for 30 seconds.
7.
Add lemon juice and sauces. Season and heat through. Return fish to pan. Serve hot, garnished with coriander.