Story Progress
Back to home
Jhinga Achaar Recipe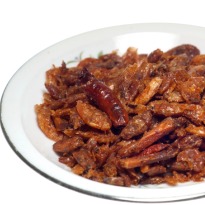 Fresh and juicy shrimps pickled in malt vinegar and a host of spices.

Ingredients of Jhinga Achaar
1 kg shrimps, shelled and de-veined
2 Tbsp whole red chillies
2 tsp ginger paste
2 tsp garlic paste
2 tsp Kashmiri chilli powder
1/2 tsp turmeric powder
2 Tbsp malt vinegar
1 Tbsp achaar masala
1.
Mix oil and red chillies.
2.
Cook covered at high heat for 2 minutes.
3.
Mix in the ginger-garlic paste
4.
Cook uncovered at high heat for 3 minutes.
5.
Add shrimps. Mix and cook uncovered at high heat for 7 minutes, stir once.
6.
Mix in chilli powder, turmeric, salt, vinegar
7.
Cook covered at 70% for 7 minutes.
8.
Add achaar masala and mix well
For storage:
1.
Transfer into a clean, sterile airtight jar and refrigerate.