Story Progress
Back to home
Jhinge Chingri Posto with Rice Recipe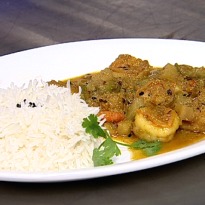 A creamy dish made of ridge gourd, potatoes and prawns, cooked in a range of spices.

Ingredients of Jhinge Chingri Posto with Rice
3 ridge gourds (torai)
2 potatoes
4 Tbsp poppy seeds
250 g small sized prawns (headless, shell off and deveined)
1 tsp turmeric powder
Salt to taste
2 Tbsp mustard oil
1/2 cup red onion
4 green chillies
1/4 tsp sugar
1 tsp turmeric powder
Salt to taste
1 tsp red chilli powder
50 g panch phoran spice mix
1.
Peel skin of ridge gourd and cut in small pieces. Cut potato in cubes. Dry grind the poppy seeds.
2.
Clean prawns. Apply turmeric and salt. Lightly pan fry with turmeric and salt. Keep aside.
3.
Heat mustard oil in a pan. Add chopped onion and slit green chili. Add sugar and cook till the onions are pinkish brown and translucent.
5.
Fry with little turmeric till the potatoes are light golden in colour.
6.
Add chopped ridge gourd and fry for a couple of minutes.
7.
Add salt and red chili powder.
8.
Cover and let ridge gourd cook for a while.
9.
When the ridge gourd is still cooking in its own juices, add the poppy seed powder and the
10.
panch phoran spice mix. And little water if required.
11.
Once the vegetables are done add the shrimp and mix.
12.
Top with 1/2 tsp of mustard oil.