Story Progress
Back to home
Keema Matar Masala Recipe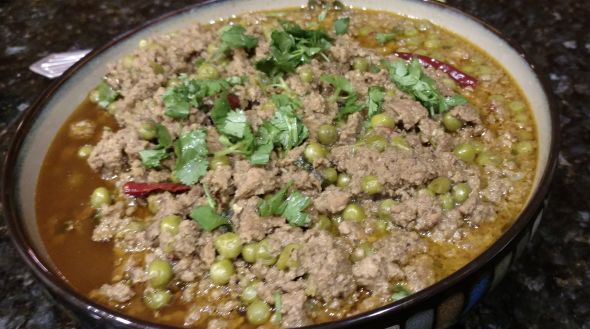 How to make Keema Matar Masala
Minced meat with green peas, a dish that can be made with either minced Chicken, Turkey, Mutton or Lamb. Vegetarian option would be Soya Granules.

Ingredients of Keema Matar Masala
500 Gram Ground meat: Chicken/Mutton/Turkey or Lamb
1/2 cup Red onion paste
3 tbsp Ginger-garlic paste
1 tbsp Onion powder
2 tbsp Lime juice (freshly squeezed)
1 tsp Red chili powder
2-3 Dry red chilis
1/2 cup Roma Tomatoes (diced)
1/2 cup Spice mix of Turmeric, Red Chili Powder, Coriander powder, Cumin Powder, salt and Garam Masala. (1 tsp of each made into a paste with water)
1/2 cup Cilantro, finely chopped
1/4 cup Mustard oil to cook
to taste Salt
1 tsp Sugar
3/4 cup Green peas
3/4 Hot water
Marinate the meat:
1.
Add 1 tbsp of ginger-garlic paste, 1 tbsp onion powder, 2 tbsp lime juice, 1 tsp of Red Chili powder and salt to the ground meat.
2.
Mix well, cover and refrigerate for about 15-20 minutes.
Prepare the dish:
2.
Add onion paste, dry red chilis and 2 tbsp of ginger-garlic paste and sauté for a while.
3.
Add tomatoes and mix well. Cook till the tomatoes turn soft.
4.
Add the spice paste and cook in low heat till the oil separates.
5.
Add the meat and mix well for about 7-9 minutes in low heat.
6.
Add 3/4 cup hot water and sugar. Cover and cook till the meat is done.
7.
Now add the green peas, mix well, cover and cook for 5 minutes.
8.
Garnish with chopped cilantro and serve hot with Rice, Roti or Paratha.