Story Progress
Back to home
Khubani ka Shahi Tukda Recipe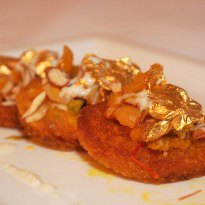 Khubani ka Shahi Tukda
Vikas Khanna teaches you how to make a mouth watering shahi tukda stuffed with apricots and topped with rabdi.

Ingredients of Khubani ka Shahi Tukda
For the rabdi:
3 cups whole milk
1/2 cup sugar
1/4 tsp green cardamom powder
For the shahi tukda:
1 cup granulated sugar
1 cup whole milk
Ghee, for deep frying
1/4 tsp saffron strands
4 slices white bread
100 gms dried apricots, soaked overnight and drained
2 Tbsp pistachios, finely chopped
2 sheets edible silver/gold leaf (Optional)
For the rabdi:
1.
Heat milk in a kadhai (wok) over medium heat and bring to a boil. Lower the heat and cook, stirring continuously, till it thickens to a consistency of a custard sauce.
2.
Remove from heat, add sugar and cardamom powder and stir till sugar dissolves. The mixture will thicken on cooling.
For the shahi tukda:
1.
Combine the sugar with 2 cups water in a saucepan and cook over medium heat, stirring till sugar dissolves and the syrup thickens to one-string consistency.
2.
Add the drained apricots to the syrup and cook till tender. Remove apricots from syrup and set aside.
3.
In another saucepan, combine the milk with saffron and prepared sugar syrup (The syrup in which the apricots were cooked) and simmer for 5 to 7 minutes. Remove from heat and keep warm.
4.
Heat the clarified butter in a kadhai over medium heat, and deep fry the bread slices till golden and crisp. Remove and drain on absorbent paper.
5.
Soak the fried bread slices in the warm milk for 2 minutes.
6.
Sandwich the cooked apricots between the softened bread.
7.
To serve, arrange the sweet apricot sandwiches on a plate and spoon rabdi over. Sprinkle over with pistachios and garnish with silver leaf.