Story Progress
Back to home
Kodo Millet Burger Recipe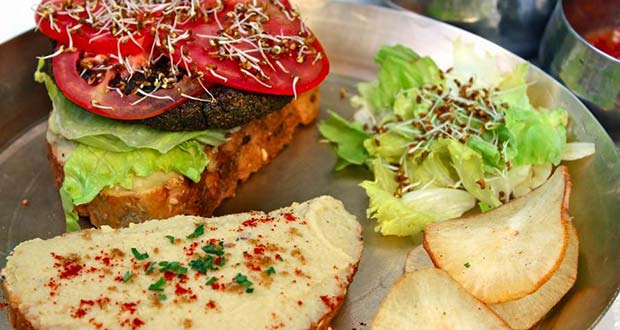 How to make Kodo Millet Burger
About Kodo Millet Burger Recipe: A burger that does away with all those unwanted calories along with having an amazing taste. The Kodo Millet burger is a meal high on nutrients and proteins to get you through a long tiring day.

Ingredients of Kodo Millet Burger
For patty:
30 gms kodo millet
30 gms watermelon seeds
3 Coriander leaves
3 Spring onion leaves
3 Basil leaves
3 Parsley leaves
2 gms mustard paste
For salsa dip:
1 Tomato
2 tbsp coriander leaves
A pinch of salt
1 Onion
15 ml olive oil
A pinch of black pepper
1 small spring onion leaf
For hummus:
50 gms chickpeas
1 tbsp lemon juice
5 ml olive oil
A pinch of salt
A pinch of chilli powder
1 tbsp coriander, chopped
For bun:
20 gms iceberg lettuce
2 Tomato slices
2 pcs onion slices
1 Bun
1.
Soak the watermelon seeds and millet separately for about an hour in advance.
2.
Grind the millet and watermelon seeds in a fine paste.
3.
To this add coriander and mustard paste.
5.
Add chopped basil, parsley and spring onion leaves to this mix
7.
Give this mixture the form of a patty and cook it on a non-stick pan till brown on both sides.
8.
In a bowl add chopped tomato, onion, spring onion, coriander.
9.
Now add olive oil, black pepper and salt to taste. The salsa is ready.
10.
For the hummus, boil the chickpeas and mash it into a fine paste.
11.
To it add olive oil, coriander, chilli powder, lemon juice and salt to taste.
12.
Spread humus over the bun.
13.
Now place the patty with slices of tomato, onion and iceberg lettuce.
14.
Serve with the salsa on the side.