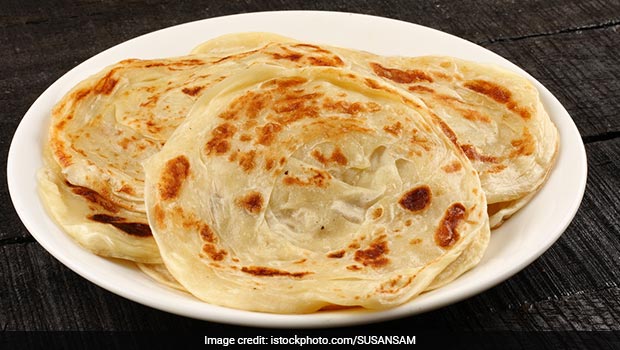 Kuttu mixed with singhare flour, binded with mashed colocasia (Arbi) to make crisp paranthas. This recipe of Kuttu Paratha can be eaten during the Navratri festivities by those who are fasting since this is made from kuttu and singhare ka aata instead of wheat flour.
Ingredients of Kuttu ka Paratha
1 Cup Kuttu Ka Aata
1 Cup Singhare Ka Aata
1/4 Kg Colocasia (peeled and mashed), boiled
1 tsp Sendha Namak
To knead dough Water
To deep fry Ghee
For dusting Dry flour
How to Make Kuttu ka Paratha
1.

Mix the two types of flour and the colacasia and knead with the water into a soft pliable dough. Colacasia is added to bind the dough, and can be adjusted according to the desired consistency.

2.

Cover the dough and leave to rest for 30 minutes and proceed to make the paranthas.

3.

Make it on a non-stick pan (for those who prefer less ghee), though it may become a little dry.
Key Ingredients: Kuttu Ka Aata, Singhare Ka Aata, Colocasia (peeled and mashed), Sendha Namak, Water, Ghee, Dry flour