Story Progress
Back to home
Sattu Ka Paratha Recipe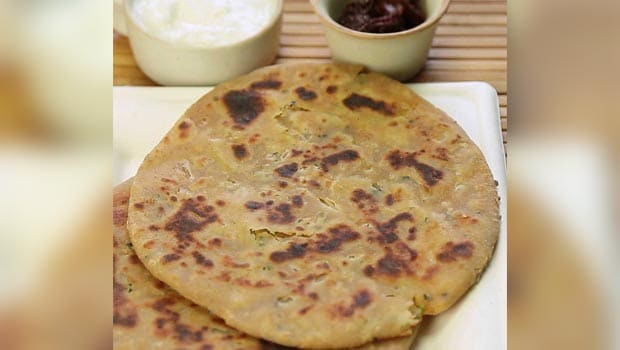 How to make Sattu Ka Paratha
NDTV Food
Sattu paratha is a family member of Indian breads, most popular in the Bihar region of India where it is a staple food. Sattu is full of fibre, and essential nutrients like protein thus making this one a healthy dish that can be served for breakfast, lunch and dinner as well. The ingredient is known for its healthy benefits especially in providing strength to the body.

Ingredients of Sattu Ka Paratha
For Dough:
2 cups Atta
1/2 tsp Salt
1/2 tsp Ajwain
1 tsp Kalonji
1 tbsp Ghee
1/2 cup Water
For Filling:
1 cup Sattu
1/2 tsp Ajwain
1/2 tsp Salt
1 nos Garlic Paste
1 nos Ginger Paste
1 nos Green chilli
1/2 tsp Red chilli powder
1 nos Onion
1/2 tsp Lemon juice
1 tsp Achaar masala
1 tsp Mustard oil
1/2 cup Coriander leaves
Prepare the Dough:
1.
Take flour in a bowl and add salt, ajwain, kalonji and ghee. Add required amount of water and prepare soft dough. Prepare the Stuffing:
1.
In a bowl put sattu. Add ajwain,salt, ginger garlic paste, green chilli and red chilli powder. 2.
Also add onion, lemon juice, achar masala, mustard oil and coriander leaves. Mix well 3.
Adding required amount of water make the stuffing moist as to fill easily. Prepare Sattu Parantha:
1.
Make balls out of the dough for making paranthas. 2.
Sprinkle flour over the rolling board to avoid stickening of dough.
3.
Roll out to make paranthas and fill a portion of sattu in the middle. 4.
Enfold the filling properly and make flat balls for rolling it again. 5.
Heat tawa and cook the paratha from both sides. 6.
Apply a generous amount of ghee over both sides and cook until golden brown color. 7.
For better cooking keep the flame low.
8.
Sattu paranthas are ready to serve hot with chutney, curd or achar. Recipe Notes
Sattu Ka Paratha is usually had with a condiment or curd on the side as it has the tendency to make the throat go dry.
Watch the step by step video of Sattu Ka Paratha here: