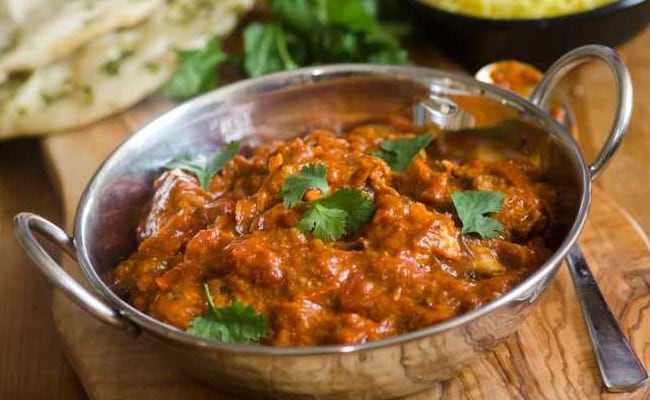 About Lehsuni Murg Recipe | Garlic Chicken: On the flavour scale, Lehsuni murg would score an easy ten. It's downright delicious. With oodles of spice and strong garlic flavour, this chicken recipe is a must try. Pair with cooked rice or chapati and serve at your next dinner party.
Ingredients of Lehsuni Murg
1/2 Kg boneless Chicken
2-3 tbsp ghee
1 cup water
1 cup onion, finely chopped
5-6 tsp garlic paste
3-4 tsp ginger paste
3 tsp coriander powder
4 tsp yogurt
2 tsp red Chilli Powder
5-6 tsp badaam paste
to taste salt
1/4 tsp nutmeg
1/4 tsp javitri powder
1/2 tsp pepper powder
4 tsp fried garlic, chopped
2 tsp kesar ka ghol
2-3 tsp coriander leaves
How to Make Lehsuni Murg
1.

Lightly roast the badam and soak it in water for a while. Grind it into a paste and keep aside.

2.

Heat ghee in a pan, and fry onions. Pour in the garlic paste and ginger paste. Mix well.

3.

Add coriander powder and add 4-5 tbsp of water. Continue to stir.

4.

Mix in the yogurt, add the red chilli powder and mix again.

5.

Pour in the badaam paste and cook for some time.

6.

Add the chicken and mix well.

7.

Add salt and water, cook for sometime or till the chicken is well cooked.

8.

Add jaifal powder, javitri powder, pepper powder, fried chopped garlic and kesar.

9.

Garnish with coriander leaves and serve hot.
Key Ingredients: boneless Chicken, ghee, water, onion, garlic paste, ginger paste, coriander powder, yogurt, red Chilli Powder, badaam paste, salt, nutmeg, javitri powder, pepper powder, fried garlic, kesar ka ghol, coriander leaves