Story Progress
Back to home
Lemon Tart Recipe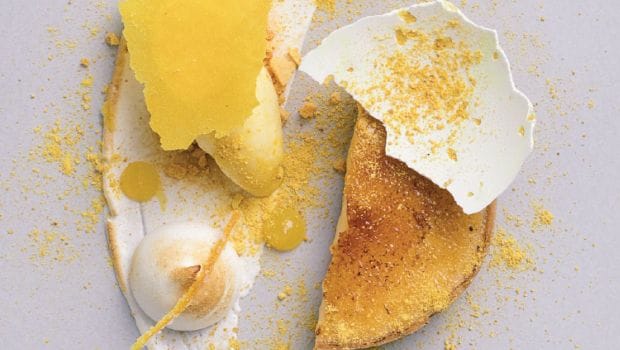 How to make Lemon Tart
A tangy lemony dessert to end your meal on a fresh note. Tart cases filled with lemon curd consisting of lemon rind.
Total Cook Time

1 hr 20 mins

Ingredients of Lemon Tart
For the Tarts:
100 gm flour
50 gm butter
50 gm sugar
1/2 tsp vanilla essence
A pinch of powdered almonds
A pie dish for baking
Lemon Filing:
200 gm sugar
125 gm cream
125ml of lemon juice, freshly squeezed.
4 eggs
Prepare the Pastry Shell:
1.
Arrange flour in a ring on a surface.
2.
Place butter, sugar, powdered almonds and essence in the center and mix until smooth.
3.
Wrap it in a cling film, place it in the refrigerator and let it rest for about 25 minutes.
4.
Once done, roll it out into a circular round.
5.
Place this dough neatly in the pie dish. Stuff it with some weight so that the shell does not rise while baking.
6.
Bake blind at 180 degrees celsius for 10 - 12 minutes.
Prepare the Filling:
1.
Break the eggs into a mixing bowl and beat them.
2.
Add the sugar into it and beat it till all of the sugar dissolves.
3.
In a pan mix the cream and the lemon juice on a very slow heat.
4.
Add this slowly into the bowl of eggs and sugar.
5.
Pour this mixture into the baked shell.
6.
And bake it once again at 180 degree celsius for 25 minutes.
7.
Decorate with some passion fruit puree.