Story Progress
Back to home
Lobhia Recipe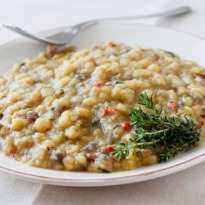 High on flavours and rich in nutrients. Roopa Gulati brings you an interesting way to cook and enjoy black eyed beans.

Ingredients of Lobhia
225 gm black-eyed beans (lobia) - soaked overnight
1 Tbsp ginger paste
1 Tbsp garlic paste
5 Tbsp oil
3 medium onions- finely diced
1 tsp coriander powder
1 tsp cumin powder
2 tomatoes- peeled and chopped
6 Tbsp yoghurt
1/3 tsp chilli powder
1/2 tsp garam masala
Salt to taste
1 Tbsp lemon juice
1 Tbsp chopped coriander
200 gm mushrooms- chopped and sauteed
1.
Boil lobia in water until soft.
2.
Heat the oil and fry onions till golden.
3.
Add ginger and garlic paste and cook for a minute.
4.
Add coriander powder and cumin powder, followed by tomatoes.
6.
Add yoghurt, chilli powder, garam masala and salt.
7.
Now add cooked beans to the pan.
8.
Let it simmer for 10 minutes.
9.
Garnish with coriander leaves, lemon juice and sauteed mushrooms.