Story Progress
Back to home
Lobster Thermidor Recipe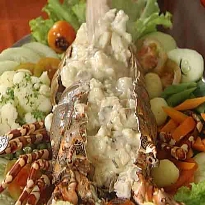 Lobster meat cooked with mushrooms, cream , wine and herbs, served on it's shell with Bechamel sauce

Ingredients of Lobster Thermidor
For Bechamel sauce:
Butter
Milk
White flour: all to taste
For main preparation:
200 gm lobster meat
1 tsp refined oil
1 tsp butter
2 tsp chopped onions
1 tsp chopped garlic
1 cup Bechamel Sauce
2 tsp mushroom
1/2 tsp salt
Pinch of tarragon (an aromatic culinary herb)
Pinch of chervil (a herb similar yo parsley)
1/2 tsp mustard powder
1 tsp white pepper powder
2 tsp white wine
2 tsp cream
1.
Cut the lobster into two horizontally and remove the lobster meat from the shell.
For the bechamel sauce:
1.
Add butter, milk and white flour and mix it well. Bechamel sauce is ready.
For the main preparation:
1.
Heat oil in pan. Add butter, onion, garlic and saute till onion turn light brown.
2.
Then add bechamel sauce, mushrooms, lobster meat, salt, tarragon, chervil, mustard, white pepper powder, wine and cream.
3.
Mix well. Spread the preparation on the lobster shell and garnish with shredded cheese.