Story Progress
Back to home
Lobster Thermidor Recipe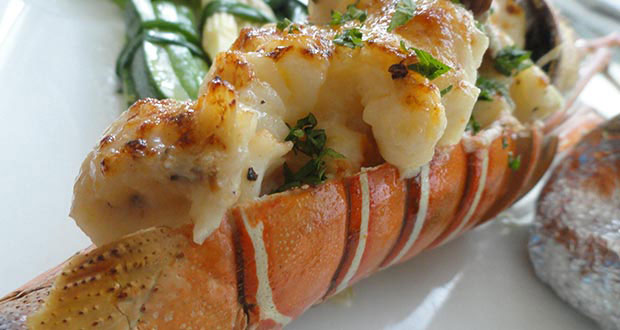 How to make Lobster Thermidor
About Lobster Thermidor Recipe: Beautifully cooked lobster meat tossed together with mustard, salt, pepper and cream that comes paired with a delicate sauce made with brandy and egg yolks.

Ingredients of Lobster Thermidor
2 live lobsters (500gms each)
150 unsalted butter
100 gms mushrooms (trimmed), sliced
2 tsp dijon mustard
to taste salt
to taste black pepper
80 ml brandy
250 ml heavy cream (scalded)
2 large egg yolks
1.
Plunge lobsters headfirst into a pot of boiling salted water. Loosely cover pot and cook lobsters over moderately high heat for 9 minutes from the time they enter water. Then transfer with tongs to sink to cool.
2.
When lobsters are cool enough to handle, twist off claws and crack them, then remove meat.
3.
Halve lobsters lengthwise with kitchen knife, beginning from tail end, then remove tail meat, reserving shells. Cut all lobster meat into 2.5cm pieces. Discard lobster innards, then rinse and dry shells.
4.
Heat butter in a heavy saucepan over moderate heat , then cook mushrooms, stirring, until liquid that mushrooms give off is evaporated and they begin to brown, about 5 minutes.
5.
Add lobster meat, mustard, salt, and pepper and reduce heat to low. Add 50ml brandy and half the amount of cream and simmer 5 minutes.
6.
Whisk together yolks and remaining brandy in a small bowl. Slowly pour remaining cream into yolks, whisking constantly, and transfer to a small heavy saucepan.
7.
Cook the mixture over very low heat, whisking constantly, until it is slightly thickened now add the same to lobster mixture, stirring gently.
8.
Arrange lobster shells, cut sides up, in a plate and spoon lobster with some of sauce into shells. Heat under salamander until golden brown, for about 4 to 5 minutes. Serve remaining sauce on the side.