Story Progress
Back to home
Coldwater Lobster with Spinach and Mushrooms Recipe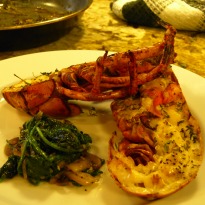 Lobster cooked in the flavors of thyme and butter with a spinach-mushroom topping.

Ingredients of Coldwater Lobster with Spinach and Mushrooms
1 lobster
2-3 Tbsp of olive oil
3 small cubes of butter
3-4 thyme stalks
A dash of pepper
Salt to taste
For the Spinach and Mushrooms:
A small bunch of baby spinach leaves
2 cubes of butter
1-2 tsp of onion, finely chopped
1 tsp of garlic, finely chopped
6-8 mushrooms (any)
A dash of pepper
Juice of 1 lemon
How to Make Coldwater Lobster with Spinach and Mushrooms
Hide

Show

Media
1.
Cut the lobster lengthwise into two halves and season it with salt and pepper.
2.
Heat the olive oil in a pan and sear the lobster for 1 minute on both sides.
3.
Add the butter and thyme on the lobster and place the pan in a hot oven of 160 degree Celsius.
4.
In another hot pan, put 2 cubes of butter, onions, garlic, mushrooms and saute all for 1 minute.
5.
Add the spinach and cover the pan for 30 seconds.
6.
Then season it with a dash of pepper and toss.
8.
Remove the thyme from the lobster.
9.
On a plate, place the lobster, squeeze the lemon juice over and serve it hot with the spinach and mushroom.