Story Progress
Back to home
Mango Mozzarella Salad Recipe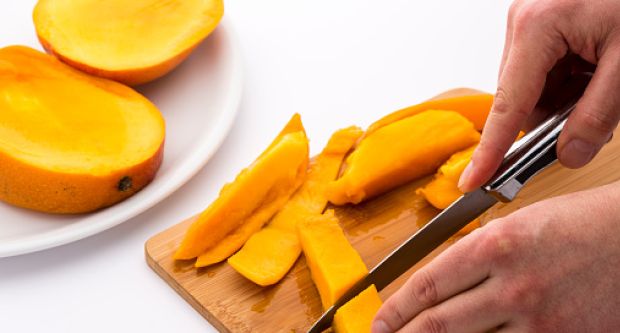 Chef Ajay Chopra brings you an easy way to indulge in healthy eating. Try this fresh mango, mozzarella salad, a delight for your taste buds!

Ingredients of Mango Mozzarella Salad
2 ripe mangoes, peeled
175 gm bocconcini (fresh mozzarella)
2-3 lollo rosso lettuce (or regular lettuce)
Dressing:
2-3 fresh parsley sprigs
2-3 fresh red chillies, sliced diagonally
6-7 capers
6-7 fresh basil leaves
Sea salt to taste
Crushed black peppercorns to taste
2 tsp pesto sauce
2 tsp lemon juice
2 tsp balsamic vinegar
1/2 cup fresh orange juice
1/4 cup extra virgin olive oil
1.
Finely chop parsley sprigs and place it in a bowl.
2.
Finely chop red chillies along with capers and place in the same bowl.
3.
Finely chop basil leaves and add sea salt, crushed peppercorns, pesto sauce, lemon juice and balsamic vinegar, mix well.
4.
Add orange juice, olive oil, whisk well.
5.
Halve bocconcini and place them in another bowl.
6.
Add 2 teaspoon dressing and mix lightly, set aside.
7.
Slice mangoes diagonally and place them on a serving dish in the pattern of a fan.
8.
Place torn lettuce on the sides and the bocconcini over it.
9.
Pour the remaining dressing all over.