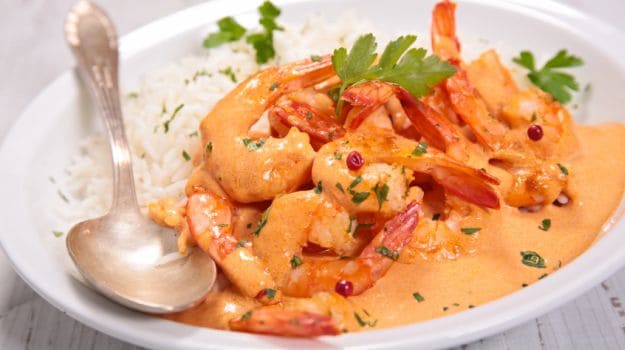 About Mayawati's Prawn Curry Recipe: On Travelling Diva, Ritu Dalmia tastes the local cuisine of South Goa. Dissolve in the dizzying taste of the legendary prawn curry prepared by the blessed cook, Mayawati.
Ingredients of Mayawati's Prawn Curry
2-3 Tbsp vegetable oil
1/2 kg prawns, small
2 tomatoes, sliced
2 onion, sliced
3-4 green chili (slit)
2 cups water
to taste salt
For the spice paste:
1 coconut, grated
1 onion, sliced
5-6 garlic cloves
2 tbsp coriander seeds
1 tsp turmeric powder
8-10 pieces dry kokum
10-15 goan dried red chili or any dry red chilli
How to Make Mayawati's Prawn Curry
1.

Grind all the ingredients for the paste together, sprinkling a bit of water if required.

2.

Heat the oil in a pan, saute the onions and green chilli till light brown.

3.

Add the spice paste and stir for 5 minutes on medium heat.

4.

Then mix in the prawns and coat well with the paste.

5.

Pour in some water and bring it to a boil.

6.

Finally add tomatoes and salt, stir it for 2 minutes.

7.

Cover let it cook for 10 minutes on low heat.

8.

Serve hot with steamed rice.

9.

Tip - In case you don't have kokum, just use 2 Tbsp. of tamarind water instead. Although this

10.

recipe is traditionally for prawn curry it works very well for baby onions and drumsticks.
Key Ingredients: vegetable oil, prawns, tomatoes, onion, green chili (slit), water, salt, coconut, garlic cloves, coriander seeds, turmeric powder, dry kokum, goan dried red chili or any dry red chilli