Story Progress
Back to home
Mayawati's Prawn Curry Recipe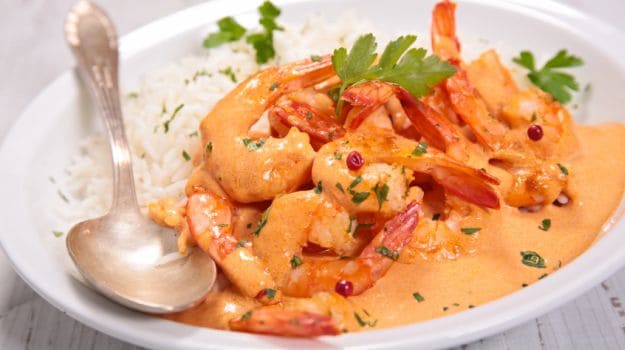 How to make Mayawati's Prawn Curry
About Mayawati's Prawn Curry Recipe: Our Travelling Diva, Ritu Dalmia tastes the local cuisine of South Goa. Dissolve in the dizzying taste of the legendary prawn curry prepared by the blessed cook, Mayawati. I

Ingredients of Mayawati's Prawn Curry
2-3 Tbsp vegetable oil
1/2 kg prawns, small
2 tomatoes, sliced
2 onion, sliced
3-4 green chili (slit)
2 cups water
to taste salt
For the spice paste:
1 coconut, grated
1 onion, sliced
5-6 garlic cloves
2 tbsp coriander seeds
1 tsp turmeric powder
8-10 pieces dry kokum
10-15 goan dried red chili or any dry red chilli
1.
Grind all the ingredients for the paste together, sprinkling a bit of water if required.
2.
Heat the oil in a pan, saute the onions and green chilli till light brown.
3.
Add the spice paste and stir for 5 minutes on medium heat.
4.
Then mix in the prawns and coat well with the paste.
5.
Pour in some water and bring it to a boil.
6.
Finally add tomatoes and salt, stir it for 2 minutes.
7.
Cover let it cook for 10 minutes on low heat.
8.
Serve hot with steamed rice.
9.
Tip - In case you don't have kokum, just use 2 Tbsp. of tamarind water instead. Although this
10.
recipe is traditionally for prawn curry it works very well for baby onions and drumsticks.