Prawn recipes- Although the names 'prawns' and 'shrimp' can be used interchangeably, there is a small difference between the two. Prawns have a gill structure, larger legs and claws while shrimps are smaller on all of those accounts. In some countries, prawns are often known as large shrimps. But usually, the name differs geographically. For instance, in the United Kingdom both prawns and shrimps are known as prawns while in the United States and Australia they're all referred to as shrimp. In India, prawns and shrimp are mostly referred to as 'prawns' and celebrated as the hero ingredient across many regional cuisines, especially in the South of India. Chettinad Eral Kuzhambu or Chettinad prawn curry, Kerala prawn fry, prawn vindaloo, which is infused with vinegar, Bengali prawn malai curry, prawn balchao and the all-time-favourtie, prawn tikka masala.


Fresh water prawns need to be peeled and deveined before they can be fried or dunked straight into curries. The big, king-sized prawns also need to be peeled but are best cooked whole. To peel the prawns, pinch slightly behind the head and twist the body. Raise the shells and legs from the body, keep the tail if you'd like. Pull out the long black thread with the knife.


How To Cook Prawns | Easy Tips and Tricks To Cook Prawns

You could pick out frozen prawns or buy fresh ones. If you're picking out the frozen ones then make sure to completely defrost them before you cook. Prawns might be easy to cook but they dry out even more easily. So try to avoid cooking them on a high flame. Instead, opt for poaching. Dunk the prawns into simmering water and let them cook through and through. You could also try steaming - marinate the prawns and shove them in a microwave till they're cooked and curled up small. Pan sauteing and frying are also two popular methods that you could save for fancier occasions.


To prove just how versatile an ingredient this is, we've put together a collection of prawn recipes from some top Indian and international chefs. From coconut-y fried prawns to the long time favourtie prawn balchao - here's everything you need.


Here Are 13 Best Prawns Recipes | Best Prawns Recipes For You To Try:
This dish unearths the richness of the 'land down under', its marvelous seafood and its beautiful spices. Juicy prawns fried crisp in coconut oil, spluttering mustard seeds, crackling curry leaves, turmeric, fiery chillies and a drop of lemon.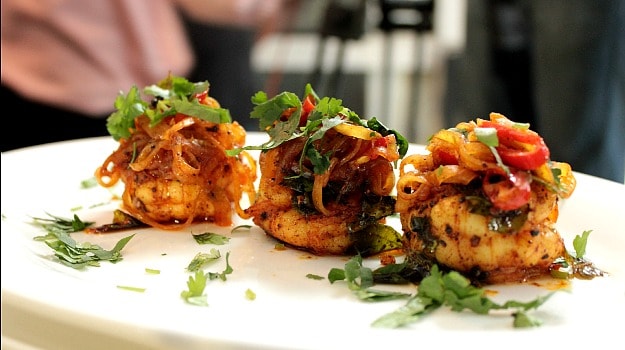 The one with fiery chillies and juicy prawns.

Tiger prawns tossed with onions, chilli and white wine, and then plated beautifully and served with a sweet orange marmalade sauce.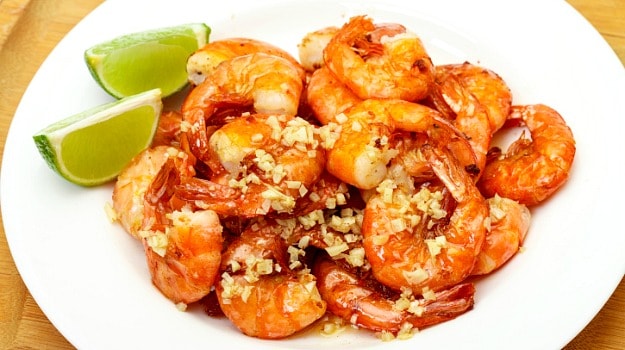 Prawns tossed in marmalade sauce makes for a great treat.


Here's something extraordinary for all of you who can't get enough spicy food. De-shelled prawns cooked in a handful of ingredients - green chilli, sriracha chilli sauce, fish sauce, soft basil leaves and crunchy onions.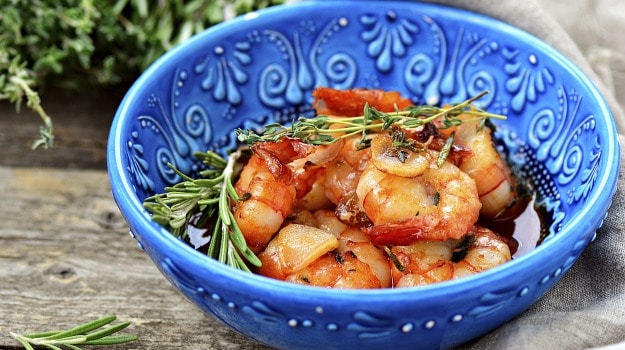 The perfect match for the spicy, fiery soul.


A bowl of plain white rice could not taste better than how they tastes with prawn curry. Take 5-6 garlic cloves, onions, coconut, coriander seeds and grind them to get a fine paste. Add water and dump the prawns till they cook through and through.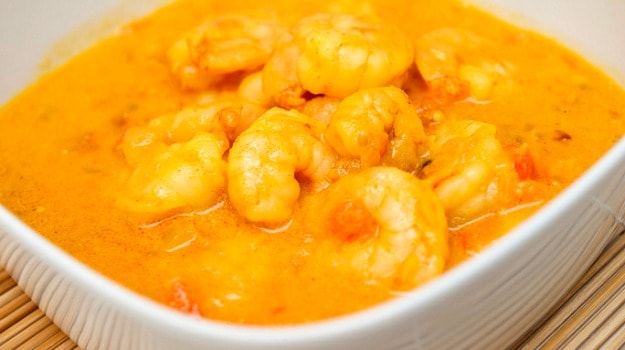 Nothing better than a hot bowl of prawn curry.


Fried prawns do taste divine but they also add to your waistline. Take a look at this perfectly delightful recipe that's not only easy but also a healthy way of enjoying crispy fried prawns. Medium-sized prawns are coated in lime juice, turmeric, fennel powder, tamarind water, dipped in suji and fried crisp.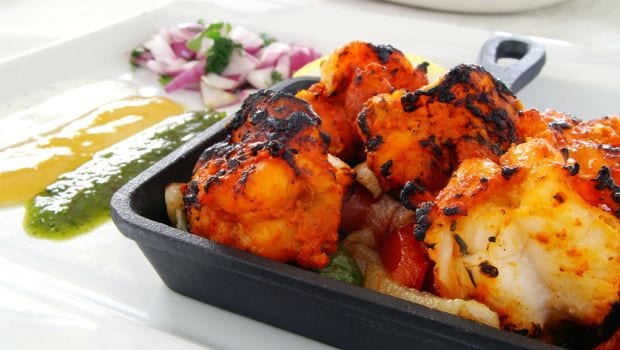 Tangy fried prawns to satiate those taste buds without any weight worries.

Rice cooked with beautifully marinated ginger, garlic prawns and smeared with a masala of cardamom, cinnamon, clove, chilli and a handful of more mind-blowing ingredients.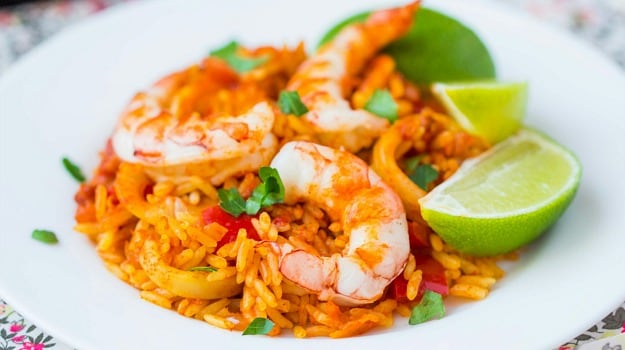 Prawn Pulao: A perfect substitute for mutton and chicken biryanis.
This gentle prawn curry with soothing flavours of coconut milk, cinnamon, fresh ginger and yogurt is a celebration for your senses. A creamy curry delicately flavoured and prepared within 30 minutes!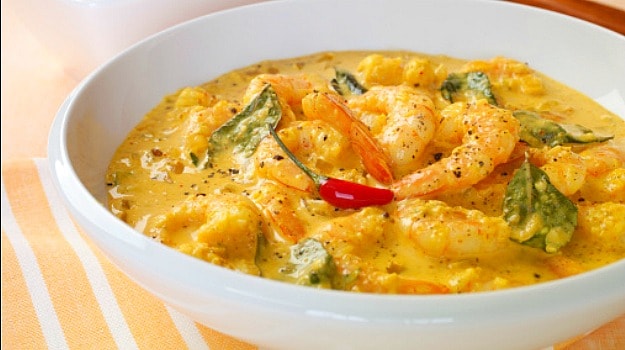 A creamy, delicious twist to the prawn curry.


A spicy Goan masaledar curry cooked with a sensational sour paste, onions and some cashew-based Goan feni.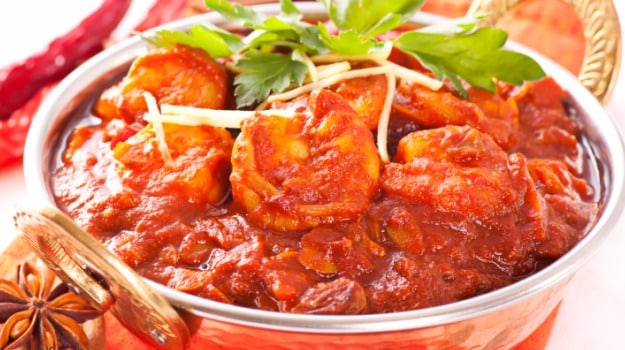 From the land of seafood, Goan Masaaledaar Curry.

Kerala-styled prawns cooked in lime juice, chilli, turmeric, fenugreek seeds, mustard seeks, ginger, chopped garlic and coconut oil.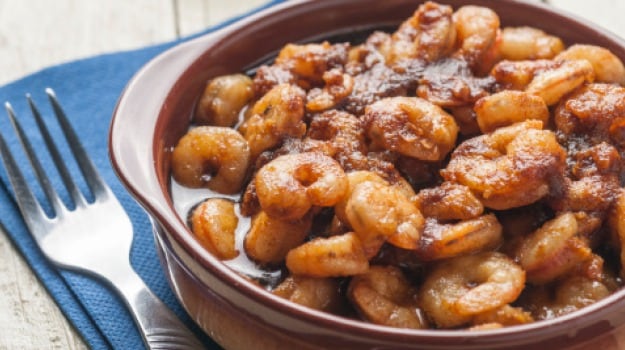 Prawn Pollichathu: A yummy delicacy from Kerala.

Fresh, deshelled prawns dipped in batter flavoured with cayenne pepper, ginger, garlic, carom seeds, lime juice and fried golden-brown.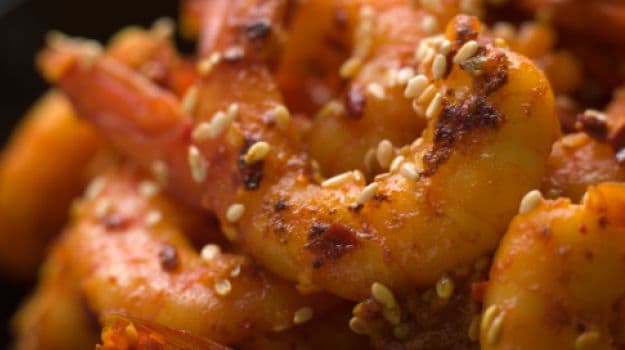 Koliwada Prawns: Yummy snack option for lively evening get-togethers.


Marinated in a spicy garlic sauce, this easy to cook prawn recipe is a great pick for a quick bite at your dinner party.
Impress your friends with this yummy prawn recipe.
Prawns stirred with Kerala spices, flavoured with star anise and stone flowers, make sure you beat the chill with hot and fragrant flavours.
Hot and crispy prawns tossed in flavourful chillies and spices along with egg white and chicken seasoning. This easy and quick prawn recipe is perfect to serve for dinner and parties at home.
These are just some of the best prawn recipes, and we are pretty sure these are enough to host a seafood dinner party and impress your loved ones with these homemade delicious prawn dishes.