Story Progress
Back to home
Miso Coconut Basa Recipe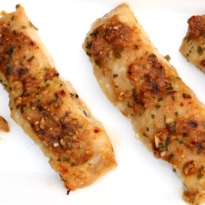 Basa fish pieces marinated in a mixture of kafir lime leaves, lemon, coconut milk, miso paste and seasoning, cooked in an oven and served hot.
Total Cook Time

40 mins 20 seconds

Ingredients of Miso Coconut Basa
500 gms Basa fish
1 tsp garlic
1 tsp ginger
1 tsp Kaffir lime leaves
1/2 tsp Sugar
1/2 tsp Lemon zest
1 tbsp Miso paste
1/4 cup Coconut milk
1.
Take some garlic, ginger, kafir lime leaves, sugar, lemon zest, miso paste and coconut milk in a bowl and mix it well.
2.
Take basa fish and cut it into slices.
3.
Marinate the basa fish slices in the mixture.
4.
Put the marinated basa fish in oven at 190 degree Celsius for 20 minutes and your dish is ready.