Story Progress
Back to home
Molten Chocolate Cake Recipe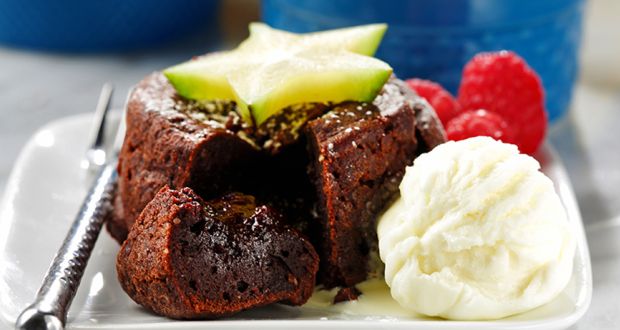 An easy recipe for an irresistible dessert. A rich chocolate cake with a soft melted chocolate center.

Ingredients of Molten Chocolate Cake
250 ml canola oil
325g Dark chocolate
7 eggs
6 egg yolks
2/3 cup granulated sugar
2 Tbsp light brown sugar
1/2 cup all-purpose flour
1/2 cup almond flour
1/4 cup cacao nibs, finely chopped or mini chocolate chips
1.
In a double boiler, add water to the bottom pot and add canola oil and chocolate to the top pot.
2.
Bring water in the bottom pot to a boil. Turn heat to low and stir the oil-chocolate mixture for about 4 minutes,until the chocolate is melted and the mixture is smooth.
3.
Make sure the water does not boil again.
4.
In a bowl, whisk whole eggs, egg yolks and sugars together until well blended.
5.
Whisk the chocolate mixture into the egg mixture until thoroughly incorporated.
6.
Add all-purpose flour and almond flour into the chocolate mixture and whisk until just combined. Fold in cacao nibs.
7.
Brush 10 small ramekins with canola oil and scoop about 6 Tbsp (90 mL) of cake batter into each ramekin.
8.
You may place filled ramekins in refrigerator or freezer for later baking but bring to room temperature before proceeding with the next step.
9.
Preheat the oven to 350 °F (180 °C).
11.
Remove the ramekins from the oven and unmold each of them directly onto a plate.
12.
Serve warm with fresh berries and Star Anise- and Orange-Infused Canola Ice Cream.