Story Progress
Back to home
Mushroom Paneer Toast Recipe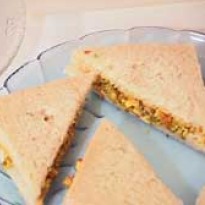 Toasted bread stuffed with a mixture of mushrooms, tomatoes, cottage cheese, chillies and spices.

Ingredients of Mushroom Paneer Toast
2 tbsp olive oil
4 cloves
6-7 black peppers
1/2 tsp cumin seeds
1/2 tsp of aniseed (saunf)
1/2 an inch of cinnamon stick
1/2 tsp of turmeric powder
1 tsp of ginger, finely chopped
1 medium onion, finely chopped
2 green chillies, finely chopped
2 medium tomatoes, finely chopped
7-8 mushroom, finely chopped
250 gms cottage cheese (paneer)
Half a loaf of bread
Salt to taste
1.
Grind or pound the black peppers, cumin seeds, aniseed and cloves together.
2.
Heat the oil in a pan and saute the ginger and onion for 2 mins. Mix in the ground masala, turmeric and salt.
3.
Add the tomatoes and green chillies and cook for five mins.
4.
Crumble the paneer into the pan. Add the mushroom and mix well.
5.
Lightly toast the bread slices and make sandwiches with the paneer. Slice in half and serve.