Story Progress
Back to home
Mutton Dry Recipe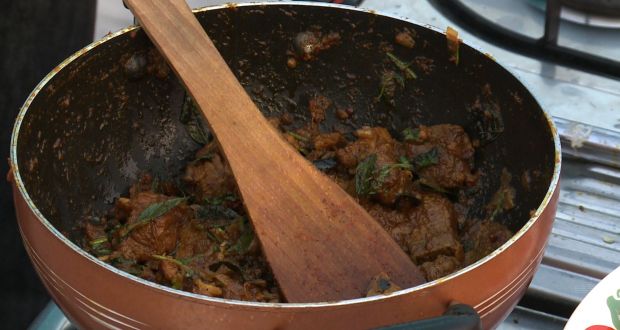 Dipped and coated in succulent batter, meat is deep fried and cooked with seasonings. It is a popular local snack food in Tibet usually made with beef.

Ingredients of Mutton Dry
350 gm boneless mutton fillet - shredded thinly
1 egg - slightly beaten
1/2 cup cornflour
1/2 tsp garlic paste
1/2 tsp ginger paste
Oil for deep frying
2 cups onions - sliced thinly
2 Tbsp broken dry red chillies
1 Tbsp soya sauce
2 Tbsp vinegar
Some greens for garnish
1.
Mix together the meat, egg, cornflour, garlic and ginger paste, and enough water so that the pieces are coated with the batter. Leave thus about half an hour.
2.
Heat the oil and deep fry the marinated pieces over high heat to begin with and then lower the heat till meat is cooked through.
3.
Drain on absorbent paper till required. Heat 2 Tbsp oil in a wok, and stir fry the onions in it over high heat till they look wet.
4.
Add the red peppers and stir a few times, add the remaining salt, soya sauce, vinegar, and the beef.
5.
Mix well and serve garnished with some greens.