Story Progress
Back to home
Mutton Shahi Roll Recipe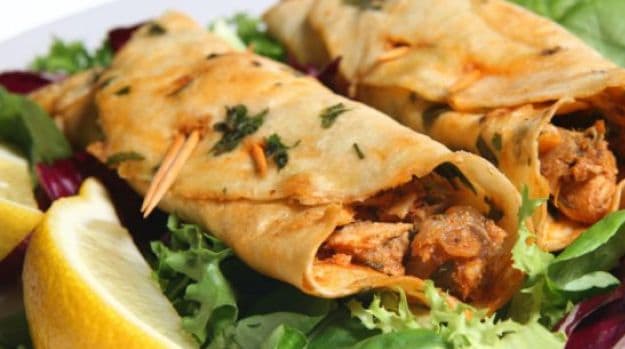 How to make Mutton Shahi Roll
This shahi mutton roll has juicy keema kebabs topped with a generous amount of cheese, tamarind and mint chutney. Serve it with some onions and enjoy it as an evening snack for your next get together!

Ingredients of Mutton Shahi Roll
300 Gram Mutton Keema
2 Cheese Slices
1 tbsp Coriander Leaves (chopped)
1 tbsp Ginger-Garlic Paste
1 tbsp Butter
1 tsp Red Chilli Powder
1 tbsp Olive Oil
1 tsp Garam Masala Powder
to taste Black Pepper
For Base:
1 cup All Purpose Flour
to taste Salt
Water (as required)
1.
Take a large mixing bowl, add mutton keema along with coriander leaves, salt, pepper, salted butter, garlic, and ginger paste and mix it well Later, add breadcrumbs in the mixture.
2.
Once the mixture is all prepared, make sure it is not very tight nor as hard as wheat dough, now make balls of the keema.
3.
Apply olive oil on the surface (wooden chopping board or marble base) and put the keema ball on it. With the help of your hands or a rolling pin, roll the ball into a round thick spread like a tikki. Then spread the cheese slice on the top of the round keema spread and with the help of a knife, gently roll it to make kebabs.
4.
Bake or grill the kebab until well cooked.
5.
Now, make a chapati by using all-purpose flour dough, heat tawa and cook from both sides.
6.
Put it on the shelf, place a kebab on top of it along with cheese. Add tamarind and mint chutney along with coriander leaves.
7.
Roll and serve with some onions alongside.