Story Progress
Back to home
Nasi Goreng Recipe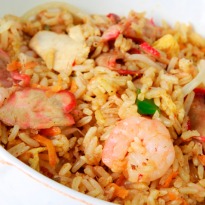 How to make Nasi Goreng
Rice cooked with chicken and prawns. Garnished with fried eggs, this recipe is high on oriental flavors. Nasi Goreng literally means 'fried rice'. It is an Indonesian delicacy.

Ingredients of Nasi Goreng
1/2 Kg Long Grained Rice, boiled
4-5 Tbsp Cooking Oil
150 Gram Boneless Chicken (diced)
100 Gram Prawns (deshelled)
2 Small Onions , finely chopped
4 Pieces Garlic, finely chopped
4 Red Chillies (grounded)
4-5 Tbsp Sweet Soya Sauce
To taste Salt
To taste Pepper
For garnishing Fried eggs
1.
Boil rice and keep aside.
2.
Heat oil in a pan and saute the onion and garlic until golden brown.
4.
Sprinkle in salt and pepper.
5.
When the chicken is almost done add the red chillies and then toss in the prawns.
6.
Stir fry for a few minutes.
7.
Add the sweet soya sauce and mix in the cooked rice.
8.
In another pan, make a double fried egg.
9.
Serve rice hot with a fried egg on top.