Story Progress
Back to home
Indonesian Nasi Goreng Recipe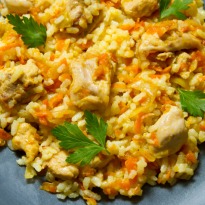 How to make Indonesian Nasi Goreng
Nasi Goreng is the Balinese rendition of chicken fried rice. Chicken, cabbage, carrots, bokchoy, kafir lime leaves, balinese red paste give this recipe a unique flavor.

Ingredients of Indonesian Nasi Goreng
1 bowl of cooked rice
1/2 onion, chopped
2 garlic pieces, chopped
100 gm chicken, finely chopped
2 eggs
1 carrot, grated
1/2 cabbage, chopped
10-12 bokchoy leaves
Spicy paste - (made from garlic, shrimp paste, red chili, kafir lime leaves)
1 Tbsp sweet soya sauce
Pinch of salt
Pinch of ground white pepper
Sambal (Balinese condiment)
Corn chips
1.
Cook a bowl full of rice (boiled) and allow it to cool.
2.
Heat oil in a pan and add onion and garlic, once the onion turns golden, add chicken to the pan.
3.
Once chicken becomes soft, add beaten egg to the pan. After stirring for a minute, add a handful of carrot and cabbage. Add 10-12 bokchoy leaves and continue stirring for a few more minutes.
4.
Add chili paste made from garlic, shrimp paste, kafir lime leaves and red chili, continue to stir.
5.
Add some more oil if required to avoid sticking and continue to saute all the ingredients together.
6.
Next, add the cooked rice to the pan and keep stirring until the rice turns yellow in color. Add 1 Tbsp of sweet soya sauce.
7.
Add salt and pepper and keep stirring on a low flame.
8.
Your Nasi Goreng is ready to be served, but not without a few garnishing's.
9.
Pour a spoon full of sambal, some corn chips; add 1 piece of cooked chicken and place a fried egg with the sunny side up on top of the rice.
10.
Now enjoy the Balinese rendition of fried rice!