Story Progress
Back to home
Neychorr Recipe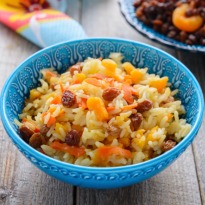 Neychorr is a Malabar style ghee rice cooked along with spices, coconut milk and nuts.

Ingredients of Neychorr
2 cups rice - soaked for an hour
4 cardamoms
Green chilli paste to taste
1 tsp garlic-ginger paste
3 Tbsp oil
1 bay leaf
1 cup onion - thinly sliced
1 cup carrot - finely shredded
2 cups coconut milk
Salt to taste
Onions - thinly sliced and browned crisp in ghee or oil
For garnish:
Fried cashew nuts and raisins
Grind together:
4 cloves
1 tsp cinnamon - broken small
4 pepper corns
1.
Heat oil and add bay leaf, carrot and sliced onions. Fry till vegetables look coated with the oil.
2.
Add green chilli, ginger and garlic and stir-fry a few times.
3.
Add the drained rice, stir-fry to mix well, and add coconut milk, salt and one cup water.
4.
Mix and bring to a boil. Cover, lower the heat and cook till water is absorbed and rice is cooked through (10-15 minutes).
5.
Serve hot garnished with the onions, cashew nuts and raisins.