Story Progress
Back to home
Nihari Gosht with Varqi Paratha Recipe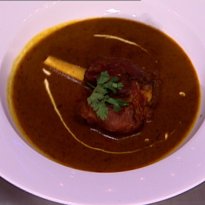 Slow cooked baby lamb shank in awadhi spices served with layered tawa parantha.
Total Cook Time

2 hrs 10 mins

Ingredients of Nihari Gosht with Varqi Paratha
For Nihari Gosht:
3 Tbsp mustard oil
2 tsp fennel powder
1 inch pc cinnamon stick
5 nos. green cardamom
2 bay leaves
2 1/2 cups onions, sliced
3 Tbsp ginger paste
3 Tbsp garlic paste
1.6 kg baby lamb shanks (5 inch pcs)
2 tsp yellow chilli powder
1 tsp turmeric powder
1 ltr mutton stock
10 gm fresh coriander
1 cup curd, whisked
2 tsp fine sugar
5 Tbsp desi ghee
5 tsp gram flour (besan)
1 tsp garam masala powder
1 pinch javitri powder
1 tsp green cardamom powder
Salt to taste
Few strands saffron, dissolved in 2 tbsp milk
1 tsp kewra water
For Varqi Parantha:
2 cups whole wheat flour
1 tsp salt
4 Tbsp desi ghee
1.
Heat mustard oil in lagan. Add fennel, cinnamon, green cardamom and bay leaves.
2.
Add sliced onions and cook till golden in colour. Add ginger and garlic paste, bay leaves and sauté.
3.
Add washed and cleaned baby lamb shanks and salt. Cook well.
4.
In a separate pot, boil mutton stock with mutton bones for as long as possible to extract more flavour.
5.
Add yellow chilli powder, turmeric powder to the lamb shanks and cover with mutton stock.
6.
Simmer for about 45 minutes.
7.
Add fresh coriander when the gravy is boiling.
8.
When meat is tender, add whisked curd and cook.
9.
Add a pinch of fine sugar to balance the flavours, if required.
10.
In another heavy-bottomed pan, heat desi ghee and add besan. Cook till light brown in colour
11.
and immediately pour over nehari.
12.
Add remaining spices, saffron milk, kewra water and adjust seasoning.
13.
Garnish with fresh coriander.
For Varqi Parantha:
1.
Make soft dough using flour, salt and water.
2.
Divide the dough into small balls, 90 gms each.
3.
Flatten each ball, spread desi ghee, sprinkle flour and give a fan fold. Now make its round
4.
disc and give it a rest for about 10 minutes.
5.
Flatten each disc using hands and cook in a tandoor till done.
6.
Remove, spread butter generously and serve.