Story Progress
Back to home
Orange Marmalade Recipe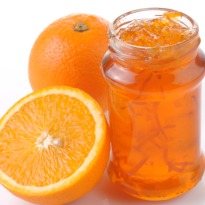 Oranges and lemons, fresh on the table. A delicious citrus marmalade to perk up your breakfast.
Total Cook Time

1 hr 20 seconds

Ingredients of Orange Marmalade
750 gm oranges
100 gm lemons
1 1/2 liter water
1 1/2 kg sugar
1 tsp butter
1.
Squeeze the juice of the oranges and lemons. Cook the juice along with water over a moderate flame.
2.
Remove membrane, pips and pith from the fruit and tie securely inside a muslin bag.
3.
Shred peel into strips and add to the juice along with the muslin bag.
4.
Cook juice until the liquid has evaporated by 1/3. Add sugar and dissolve. Boil rapidly until setting point is reached.
5.
Drop in butter and skim out any impurities from the surface.
6.
Store in a cool and dry jar.
7.
Note: The pips tied in the bag, help produce pectin so you do not need to add any.