Story Progress
Back to home
Oriental Basil Chicken Recipe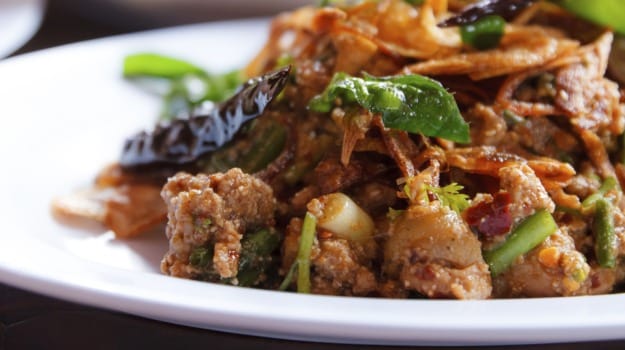 How to make Oriental Basil Chicken
Chicken mince cooked with oyster sauce, soya sauce, basil and seasoned lightly.

Ingredients of Oriental Basil Chicken
2 Tbsp garlic
3 green chillies
3 red chillies
1 tsp oil
500 gms minced chicken
2 Tbsp oyster sauce
2 Tbsp light soya sauce
A handful of basil leaves
1 Tbsp castor sugar
1.
Crush some garlic, green chillies and red chillies together.
2.
Heat the pan with oil for few minutes.
3.
Add the smashed garlic and chillies in the preheated pan. When garlic starts to turn brown, add the chicken and stir for a few minutes.
4.
The juice from the chicken will eventually start coming out. Keep stirring until all the juice is
5.
absorbed. It will take a couple of minutes.
6.
Add oyster sauce and light soya sauce. Then add basil leaves to it.
7.
Quickly turn it over a few times to mix the leaves with the meat and then add castor sugar to it.
8.
Mix it well for few minutes and remove from the fire.