Story Progress
Back to home
Palak Puri with Canola Oil Recipe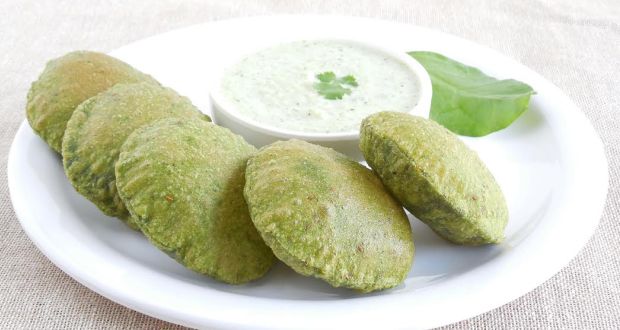 How to make Palak Puri with Canola Oil
About Palak Puri with Canola Oil Recipe: This is a popular deep-fried bread eaten mainly for breakfast. It is also served at auspicious occasions like Navratri. Using canola oil for frying results in lighter and less greasy puri.

Ingredients of Palak Puri with Canola Oil
200 gms spinach leaves
1 small green chilli
250 gms whole wheat atta (flour)
2 tsp salt
1 tbsp canola oil (for making dough)
100 ml water
80 ml canola oil (for frying)
1.
Thoroughly wash spinach in cold water and keep aside. In pan, keep water for boiling and in separate container; have ice cold water ready.
2.
Now add spinach and green chilly to boiling water and blanch for 10 seconds. Take out spinach and chilly and directly immerse in ice cold water. Once cold, place in perforated container to drain excess water.
3.
Grind spinach to fine paste.
4.
Place atta in wide bowl; add salt, canola oil (1 Tbsp), spinach and water.
5.
Knead into soft dough. Give it a rest for 10 minutes and knead again.
6.
Pour canola oil in kadai and heat.
7.
Divide into equal balls. Lightly oil surface of marble and roll out into thin round shape.
8.
Carefully pick up bread and slip into kadai; use slotted spoon to gently to immerse puri. Turn puri on other side and by now it should puff. The moment it turns a light brown colour, take it out on an absorbent paper. Serve hot.
Recipe Notes
Make sure there are no lumps in the spinach paste or else the puri will not puff as it should.