Story Progress
Back to home
Aloo Palak Ki Gujjia Recipe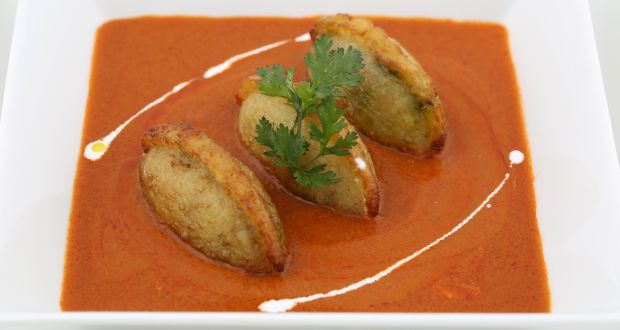 How to make aloo palak ki gujjiya
Enjoy the crunch of potato pockets and the flavours of tomato gravy in one dish! The spinach and cottage cheese stuffing gives the gujjias a delicious twist of taste.

Ingredients of Aloo Palak Ki Gujjia
1.5 kg spinach finely chopped
1 kg boiled pahari potato
200 gm chenna / cottage cheese grated well
40 ml desi ghee
2 gm cumin seeds
10 gm garlic
10 gm ginger
5 gm green chilli chopped
60 gm onions chopped
For the gravy:
20 gm desi ghee
15 gm garlic
20 gm fennel powder
350 gm tomato puree
15 gm coriander powder
10 gm degi mirch powder
40 ml cream
30 gm butter
5 gm salt
4 gm kasoori methi / fenugreek seeds
1.
Mash the boiled potatoes well.
2.
Add the spices and season to taste.
3.
Pour ghee in a heavy bottom frying pan and sauté onions, ginger, green chili, and cumin seeds with chopped spinach.
4.
Once the moisture is absorbed, take off heat and let the mixture cool.
5.
Add the grated cottage cheese.
6.
Fold the potato mixture in gujjia mold with the spinach and cottage cheese stuffing and fry it till golden.
8.
Heat ghee in a heavy bottom pan , and crackle the cumin seeds.
9.
Add rest of the spices and sauté for a while.
10.
Add tomato puree, and cook well, stirring occasionally till the mixture releases ghee.
11.
Now add fennel powder, and adjust the seasoning.
12.
Finish it by adding butter, cream and more ghee.
14.
Layer a dish with the tomato gravy. Nicely place the fried gujjias on it. Serve immediately with coriander twigs on top.