Story Progress
Back to home
Palak Patta Chaat Recipe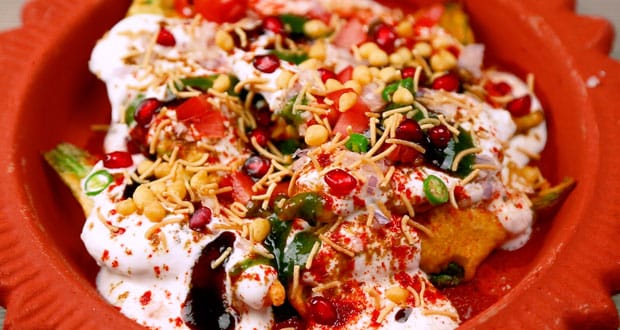 How To Make Palak Patta Chaat
Image Credits: NDTV Food
About Palak Patta Chaat Recipe: Palak Patta Chaat is a healthy appetizer and is a great snack for evening tea. Spinach leaves are coated with besan batter, deep fried, and then drizzled with curd, chutneys, and masalas.

Ingredients of Palak Patta Chaat
1 Cup besan
1 tsp salt
1/2 tsp ajwain
2 cups water
A pinch of turmeric
7-8 Palak leaves
4 tbsp curd
A pinch of black salt
A pinch of cumin
A pinch of red chilli powder
2 tsp onion, chopped
2 tsp tomato, chopped
1 Green chilli
2 tsp imli chutney
2 tsp mint chutney
1 tsp boondi
1 tsp pomegranate
1 tsp sev
1.
Take a cup of besan in a bowl and add salt, ajwain and water to it. 2.
Whisk it to make a smooth batter. Add more water if needed. Put a pinch of turmeric in in and mix again. 3.
Now take fresh and cleaned Palak leaves, soak and coat them completely with the besan mix and put them to deep fry in a pan. 4.
Put the deep fried, crisp palak leaves on a plate and pour some curd all over them. 5.
Take all the spices and chutneys and start garnishing the dish with them. One spice at a time.
6.
Starting with black salt, cumin and red chilli powder, followed by chopped onion, tomatoes, green chill, imli chutney and mint chutney. You can use the quantity of the spices according to your taste as well. 7.
Lastly, garnish with boondi and pomegranate and a bit of sev above everything for a mix of sweet and spicy lasting taste. Watch the step by step recipe of Palak Patta Chaat here: