Story Progress
Back to home
Paneer Goli Biryani Recipe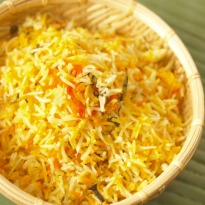 Paneer balls fried and layered with rice. The rice are tinged with saffron infused milk to give the biryani a beautiful color and aroma.
Total Cook Time

1 hr 10 mins

Ingredients of Paneer Goli Biryani
250 gm paneer
1 slice bread, crusts removed, and grated
1 tsp garlic-ginger paste
1 tsp salt
1/4 tsp powdered black pepper
Oil for deep frying
1/2 cup onions-browned crisp and brown
2 cups rice-cleaned and soaked in water for 1 hour
4 green cardamoms
4 cloves
1/2 tsp black cumin
1/8 tsp cinnamon, powdered
1 tsp salt or to taste
1/2 tsp saffron soaked in 1 cup milk
2 Tbsp ghee
2.
Mix together the paneer, bread, garlic-ginger paste, salt and black pepper.
3.
Form into small balls and refrigerate for an hour.
4.
Deep fry the paneer balls over high heat, till brown.
5.
Drain the rice. Heat the 2 tbsp ghee and add the cumin, cardamom, clove and cinnamon.
6.
Turn around a few times, and add the rice and the salt.
7.
Add 2 1/2 cups water, and bring to a boil.
8.
Lower the heat, cover and let the rice cook, for 8 minutes. Shut off the heat, leaving the pan on the stove. The rice should be almost done.
9.
About 30 minutes before serving, divide the rice and paneer balls into half each.
10.
Layer half the fried balls in a pan. Now cover this with a layer of half the rice, sprinkle half the saffron flavored milk over it, then the rest of the paneer and finally the other half of the rice.
11.
Sprinkle the rest of the milk and saffron mixture over the rice.
12.
Seal the pan with atta and place the whole thing over a tava / griddle, which is over low heat, for 1/2 an hour.