Story Progress
Back to home
Paneer Kofta Saagwala Recipe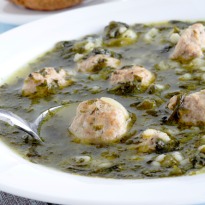 Cottage cheese doused in a rich spinach gravy.

Ingredients of Paneer Kofta Saagwala
1/2 cup paneer - grated, firmly packed
2 Tbsp refined flour
1 cup potatoes - boiled and mashed
1/8 tsp baking soda
1 tsp salt
Oil for deep frying
1 1/2 cups pureed spinach
1 tsp cumin seeds
1 bay leaf
1 tsp finely chopped ginger
1 tsp finely chopped garlic
1/2 cup onions-grated
1 cup tomatoes-chopped fine
2 tsp salt
1/4 tsp garam masala
1/2 tsp powdered red pepper
1 tsp powdered coriander seeds
Cream for garnish
1.
Mash paneer and potatoes till no grains remain.
2.
Mix in the flour, baking soda and shape into smooth crease less balls.
3.
Heat 1/4 cup of oil, lower the heat and fry and fry paneer balls in it till brown.
4.
Heat about 1 cup of oil and add cumin, when it splutters, add bay leaf, ginger and the garlic, and saute till a light brown.
5.
Add onions and saute till a golden brown, then add tomatoes and stir fry over medium heat.
6.
When fat separates, add the salt, garam masala and the red pepper and stir till well mixed.
7.
Add spinach and saute for 2-3 minutes and add paneer. Turn around a few times and serve hot garnished with the cream.