Story Progress
Back to home
Paneer Kundan Kaliyan Recipe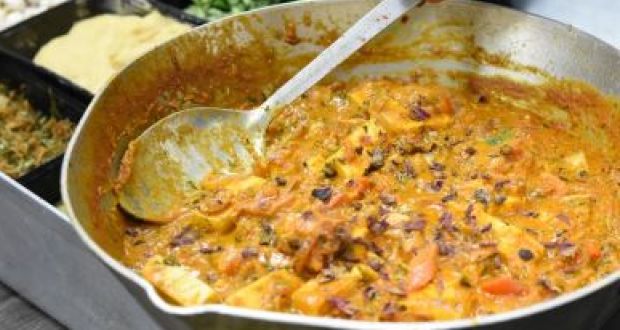 About Paneer Kundan Kaliyan Recipe: Succulent slices of cottage cheese cooked in a yogurt based gravy with onions, tomatoes and traditional whole spices. This delicacy is finished off with hints of garam masala and dried rose petals that bring a subtle flavour to this dish. Best enjoyed with Indian breads.

Ingredients of Paneer Kundan Kaliyan
500 gm Paneer
5 gm Kashmiri Red Chilli
5 gm coriander seeds
200 gm onion
100 gm tomato
5 green cardamom
10 cloves
5 gm garam masala powder
40 gm ghee
50 ml cream
100 gm curd
5 gm dried rose petals
Salt to taste
Coriander to garnish
1.
Cut cottage cheese or paneer in thin slices. Marinate these with turmeric and chilli powder. Shallow fry.
2.
Heat oil in a pan. Add Kashmiri red chillies, coriander seeds, cloves and cardamoms to hot oil and saute till they change colour slightly.
3.
Add chopped onions till they are translucent. Add chopped tomatoes and dried rose petals. Saute this mixture for a few minutes.
4.
Add yogurt and garam masala. Whisk continuously on low flame so that the yogurt does not curdle. Once done, add shallow fried cottage cheese slices. Season with salt and garnish with coriander leaves.