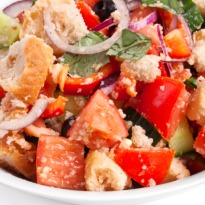 Panzenella is a Tuscan bread salad, ideal for summer which does not follow a particular recipe. The two ingredients that do not change are tomatoes and bread. This salad is great with a chilled glass of Prosecco and lots of sunshine.
Ingredients of Panzanella
1 kg large fresh juicy tomatoes
1 medium cucumber
100 gm small mild olives
1 medium onion, sliced
100 gm sun dried tomatoes and their oil
1 handful oregano, chopped
1 handful parsley, chopped
2 cloves garlic, finely chopped
2 tbsp good balsamic vinegar
1 pinch sugar
Salt and pepper
1 loaf Italian cibatta or French baguette, torn into pieces
How to Make Panzanella
1.

Chop the tomatoes and cucumber roughly into 1 cm cubes, and place in a large bowl.

2.

Stir in all the remaining ingredients except the bread, and taste for seasoning.

3.

Add some lemon juice if you want a more tart salad.

4.

Put the salad in the fridge and leave, covered, overnight until you are ready to eat. The flavor will melt into something magical.

5.

Immediately before serving, tear the bread into small pieces and stir into the salad.

6.

Words from the chef

7.

Sometimes I toast the bread lightly and also add some red and yellow bell peppers. The key to this salad is that the tomatoes have to be juicy. If they aren't, just add a few spoons of tomato juice to the salad.
Key Ingredients: 1 kg large fresh juicy tomatoes, 1 medium cucumber, 100 gm small mild olives, 1 medium onion, sliced, 100 gm sun dried tomatoes and their oil, 1 handful oregano, chopped, 1 handful parsley, chopped, 2 cloves garlic, finely chopped, 2 tbsp good balsamic vinegar, 1 pinch sugar, Salt and pepper, 1 loaf Italian cibatta or French baguette, torn into pieces