Story Progress
Back to home
Stollen Bread Recipe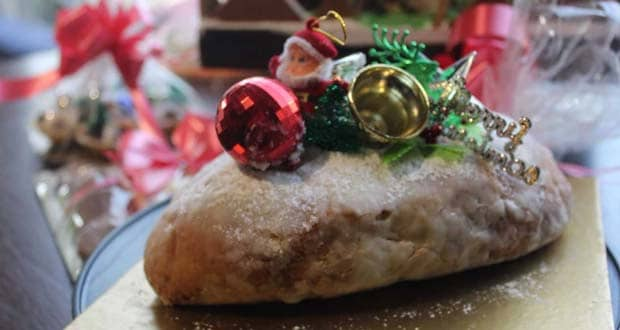 How to make Stollen Bread
Christmas Stollen Bread or Christ stollen is full of nuts, raisins and candied fruit. If made a few weeks in advance of serving it mellows and softens and is very good. As a traditional German fruitcake with a profound history, it's no wonder that there are as many variations of stollen as there are people who make it. This version includes a rich filling of marzipan, which adds to the decadence of the bread-like cake.
Total Cook Time

2 hrs 40 mins

Ingredients of Stollen Bread
100 Gram Refined flour
50 gram Butter
50 gram Brown Sugar
8 Eggs
20 gram Cinnamon powder
5 gram Nutmeg powder
5 gram Cloves powder
5 gram Ginger powder
50 gram Yeast
100 gram Raisins
100 gram Munakka
100 gram Tutti fruity
100 gram Cherry
100 gram Black currant
100 gram Apricot
100 gram Prunes
1 litre Liquor (for soaking)
1 kg Icing sugar
1 kg Desi ghee
700 gram Marzipan (100 gm individual balls)
1.
Soak all the fruits in rum and let it rest in a vacuum container.
2.
Take out the nut mix and chop it.
3.
Make dough with flour, egg, spice, yeast and butter.
4.
Add all fruits into dough and knead for 3 more minutes.
5.
Take out dough once it is ready for bench proving.
6.
After 45 minutes cut into desire size (400gm) and shape it with marzipan in center.
7.
Let it proof in tray for another 35 minutes.
8.
When its prove bake at 200 degree C with steam for first 15 minutes and reduce till 175 degree for next 15 minutes.
9.
Take out from oven and brush with ghee.
10.
Coat with icing sugar and keep on a cooling rack.
11.
Decorate with cinnamon stick and Christmas decorations.