Story Progress
Back to home
Parat-Wala Paratha Recipe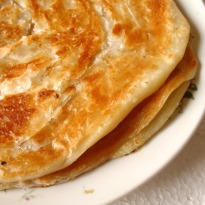 Six flour balls are rolled out and placed on top of each other to create layers, fried crisp.

Ingredients of Parat-Wala Paratha
4 cups whole-wheat flour
1 cup ghee softened and mixed with 1 tbsp flour
Ghee for frying the paranthas
1.
Knead the flour into a dough and leave to rest for about 15 minutes.
2.
Shape walnut-sized balls of the dough and roll them out into 1 cm/1/2 in thick rounds.
3.
Take one round, smear it with the ghee mixture and place another round over it.
4.
Repeat till you have used up 6 rounds. Do not smear the last one with ghee.
5.
Using dry flour to dust, roll out these layers together, with a light hand, so that the dough does not tear.
6.
Roll as thin as you can without tearing, turning over every now and then and dusting with flour. Heat a heavy-based griddle.
7.
Pour in the ghee to form a layer.
8.
Place a rolled out parantha over griddle carefully and lower the heat to cook slowly.
9.
Smear the top with ghee and turn over to cook the other side.
10.
Dribble a trail of ghee around the parantha.
11.
Turn around 2-3 times and add ghee until the parantha is cooked through.
12.
When done, the outer layers become brown and crisp. The parantha will be layered on the inside, rather like a flaky pastry.