Story Progress
Back to home
Peach and Paan Koftas in Korma Sauce Recipe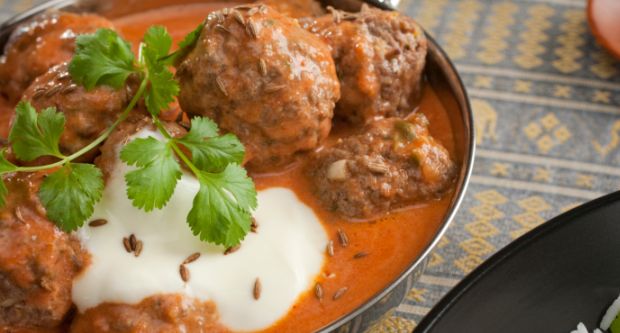 Beautiful betel leaves are wrapped around juicy peaches stuffed with a melange of spices and nuts to render a spell binding aroma. Its ecstatic taste will linger on in your senses.
Total Cook Time

1 hr 10 mins

Ingredients of Peach and Paan Koftas in Korma Sauce
2 peaches
4 betel leaves (paan ke patte)
1 1/2 cups grated cottage cheese
1/2 cup sugar
3-4 green cardamoms
Salt to taste
1/2 tsp green cardamom powder
1/2 tsp finely chopped ginger
2 green chillies, finely chopped
Crushed black peppercorns to taste
1 Tbsp cornflour
Olive oil for deep-frying
A fresh coriander sprig for garnishing
Red chilli powder for sprinkling
For the korma sauce
5 Tbsp ghee
3 green cardamoms
5-6 cloves
1 inch cinnamon
2 bay leaves
2 black cardamoms
7-8 black peppercorns
2 medium onions, sliced
1 Tbsp ginger-garlic paste
2 green chillies, finely chopped
1 Tbsp coriander powder
1/2 tsp turmeric powder
3/4 cup yogurt
2 Tbsp garam masala powder
2 Tbsp cashewnut-melon seed paste
2 Tbsp almond paste
2 Tbsp fresh cream
1.
Cut peaches into halves and de-seed them
2.
Heat sufficient water in a deep non-stick pan.
3.
Add sugar and broken cardamoms, cover and bring to a boil.
4.
Take cottage cheese in a bowl.
5.
Add salt, cardamom powder, ginger, green chillies and crushed peppercorns, mix well.
6.
Blanch betel leaves in sugar syrup for a minute, remove and set aside.
7.
Blanch peaches in sugar syrup for a minute, remove and set aside.
8.
Place blanched betel leaves on the worktop.
9.
Put a blanched peach half on each and stuff with the cottage cheese mixture.
10.
Invert the stuffed peach and fold the betel leaves sealing the stuffed peaches.
11.
Add cornflour to the leftover cottage cheese mixture and mix well.
12.
Divide the mixture into large equal portions and make a dent in the centre.
13.
Place the peach-stuffed betel leaves in it and shape them into large balls or koftas.
14.
Heat sufficient olive oil in a kadahi.
15.
Deep-fry koftas on medium heat till golden.
16.
Drain on an absorbent paper.
For korma sauce:
1.
Heat ghee in a non-stick pan.
2.
Add green cardamoms, cloves, cinnamon, bay leaves, black cardamoms and peppercorns, saute till fragrant.
3.
Add onions and saute till they turn golden.
4.
Add ginger-garlic paste, mix and add 1 tablespoon water.
5.
Mix well and saute for a couple of minutes.
6.
Add green chillies, coriander powder, turmeric powder, mix well and saute for 3 minutes.
7.
Add yogurt and stir continuously.
9.
Add garam masala powder and mix well.
10.
Add 1 cup water, stir to mix and cook for 2-3 minutes.
11.
Add cashewnut-melon seeds paste and mix.
12.
Add almond paste, mix and let it simmer for 3-4 minutes.
13.
Strain the korma sauce and transfer back into a pan on heat.
14.
Bring to a boil and add cream, mix and simmer for 3-4 minutes.
16.
Pour some of the korma sauce in a serving dish.
17.
Place the koftas halves on it and pour the remaining korma sauce on them.
18.
Garnish with coriander sprig, sprinkle red chilli powder on top and serve hot.