Story Progress
Back to home
Plum Squash Recipe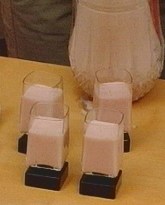 Sweetened plum juice can be stored and then mixed with water for a refreshing beverage.

Ingredients of Plum Squash
500 gm plums - soaked overnight
3 cups sugar
1 Tbsp lemon juice
1/2 tsp potassium meta bisulphate
1.
Squeeze the plums and discard the seeds.
2.
Blend the plum mixture and strain the juice through a sieve.
3.
Place the strained juice and sugar in a pan and stir over low heat till the sugar dissolves.
4.
Once it dissolves, add the lemon juice and bring to a boil.
5.
Cook for about five minutes, stirring all the time, so that it does not get caramelised.
6.
Take the mixture off the heat and let it cool.
7.
Mix in the potassium metabisulphite dissolved in one tbsp of boiled water.
8.
Store in sterilised bottles.