Story Progress
Back to home
Pomegranate and Kiwi Salad Recipe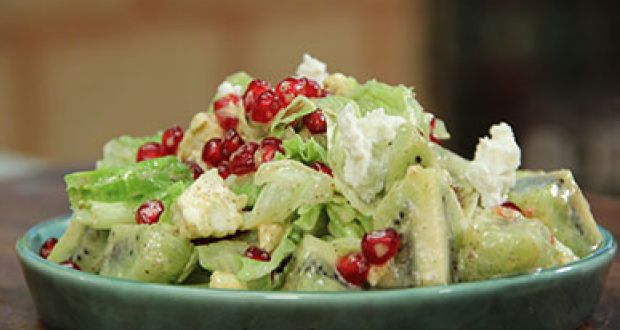 Lovely fruits of the summer come together to create this refreshing salad. Dress it up with a tangy orange and mint dressing. Not only this tasty but healthy too!

Ingredients of Pomegranate and Kiwi Salad
1/4 cup of fresh pomegranate kernels
2 medium kiwis
5-7 romaine lettuce leaves
8-10 iceberg lettuce leaves
5-7 lollo rosso lettuce leaves
50 gm of cottage cheese (paneer)
Dressing:
5-7 garlic cloves
1 tsp of mustard seeds
8-10 fresh mint leaves
1 Tbsp orange juice
Juice of 1/2 lemon
2 Tbsp of extra virgin olive oil
Salt to taste
Black pepper powder to taste
1.
1. Peel and roughly chop kiwis and put into a bowl.
2.
2. Roughly tear all the lettuce leaves and add to the bowl.
3.
3. To make the dressing, mix garlic, mustard seeds, mint leaves, orange squash, lemon juice, extra virgin olive oil, salt and pepper powder and grind till smooth.
4.
4. Roughly crumble cottage cheese and add to the bowl with pomegranate kernels and dressing and mix well.
5.
5. Transfer the salad onto a serving plate and serve immediately.