Story Progress
Back to home
Punjabi Sarson Da Saag Recipe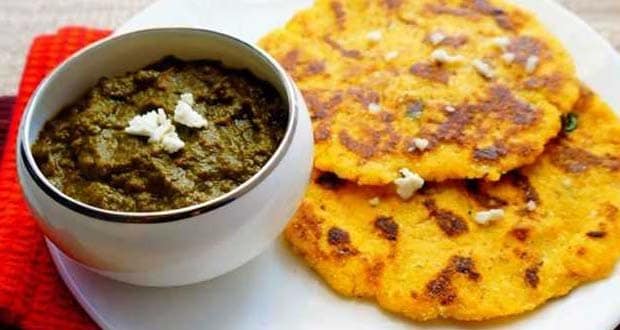 How to make Punjabi Sarson Da Saag
A classic Punjabi dish, this Sarson Da Saag recipe is gravy dish made from mustard leaves, spinach and bathua along with Maize flour and spices. The end result is a bowl full of aromatic, delicious and creamy green saag full of antioxidants and nutrients. The bathua and mustard leaves are available in the season of winters in India hence this is largely cooked in Indian homes, especially in northern India, during the winters only. This recipe traditionally comes from Punjab and will make you hooked on to it once you cook it.
Total Cook Time

1 hr 50 mins

Ingredients of Punjabi Sarson Da Saag
For saag:
4 bunch Mustard leaves
1 1/2 bunch Spinach
1 bunch Bathua (pigweed)
1.5 tbsp Makki ka Atta
3 tsp Jaggery, grated
1 inch piece Ginger
For tempering:
2 tbsp Desi ghee
A pinch of Asafoetida
1 Onion
8 cloves Garlic
2 nos Green chillies
2 nos Tomatoes (pureed), finely chopped
to taste Salt
100 tsp Cumin (crushed), roasted
1/2 tsp Red chilli powder
For garnishing:
Ginger, julienne
Prepare the Saag;
1.
Clean and wash the mustard leaves, spinach and bathua separately in running water.
2.
Roughly shred leaves and finely slice stems. Discard the hard stems.
3.
Remove and discard the stems and wash green chillies and chop them finely.
4.
Scrape, wash and roughly cut half of the ginger, cut the rest into very fine juliennes.
5.
Peel, wash and chop onions and garlic finely.
6.
Put the mustard leaves, spinach, bathua and green chillies in a heavy bottomed pan, add chopped ginger, salt and water.
7.
Bring to a boil and simmer until tender (do not cover).
8.
Remove, drain and reserve the excess liquid if any.
9.
Put the drained leaves in a blender and make a coarse puree.
10.
Transfer the puree to the heavy bottomed pan add makki-ka -atta, red chilli powder, remaining chopped green chillies and grated jaggery. Mix well.
11.
Return to heat and add the reserved liquid.
12.
Simmer, stirring occasionally, for 30 minutes. Adjust the seasoning.
Prepare the tempering:
1.
Heat Ghee, add asafoetida along with chopped onion and fry till translucent.
2.
Sauté garlic till light golden brown, add green chilies, roasted and crushed cumin and red chilli powder. Sauté over medium heat add tomato puree sauté till ghee oozes out.
3.
Bring the simmering sarson ka saag to a boil and pour on the tempering, Stir to serve.
4.
Remove to a bowl, garnish with juliennes of ginger and sprinkle garam masala powder.
5.
Serve Sarson Ka Saag hot with Makke Ki Roti along with bits of jaggery and white butter.