Story Progress
Back to home
Puy Lentil & Green Onion Crumble Recipe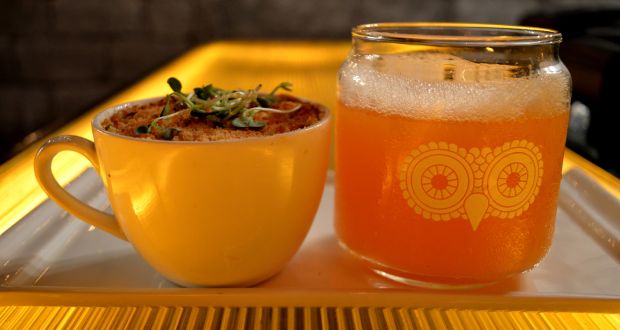 Scoop up a spoonful of creamy puy lentil base, with water chestnut, carrots and more. It also flaunts a crumbly parmesan crust on top! This innovative dish has all the flavours of garlic, tomato, thyme and parsley.

Ingredients of Puy Lentil & Green Onion Crumble
For the Puy Lentil Mixture
140 gm puy lentil (cooked)
10 gm green onion / spring onion
40 gm carrot
10 gm water chestnut
Salt to taste
Black pepper to taste
2 gm finely chopped onion
2 gm finely chopped garlic
2 gm grain mustard
40 gm tomato concasse
10 ml heavy cream
1 gm parsley
For the Crumble
30 gm flour
15 gm parmesan cheese
Salt to taste
Black pepper to taste
2 gms thyme
15 gm unsalted butter(cubed & chilled)
1.
To make the crumble, mix the butter with the flour till it resembles a coarse sand-like texture.
2.
Then add the parmesan, chopped thyme, salt & pepper.
3.
Mix again till fully combined and let it chill in the fridge.
4.
For the Puy Lentil mixture, add oil in a pan, and sauté the garlic & onion. Add the carrot and cook till soft.
5.
Now add in the green onion, followed by puy lentil. Do not forget to season at each step as you go. This will help to achieve a better taste.
6.
Add the water chestnut and tomato concasse.
7.
Add cream when it thickens up and turn the heat off.
8.
Finish off by adding mustard & herbs.
9.
Taste one last time and adjust the seasoning.
10.
Preheat oven at 180 degree. In an ovenproof bowl, add in the lentil mixture and top it with crumble; bake for 15-20 minutes or till the top is nicely brown & bubbling.
11.
Drizzle some extra virgin olive oil & enjoy.