Story Progress
Back to home
Raan Mussallam Recipe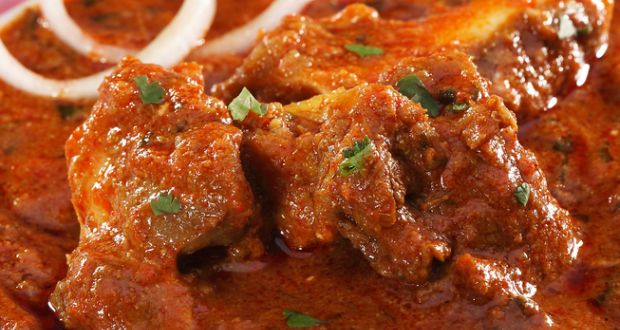 Leg of lamb marinated in a variety of spices, cooked over slow heat and topped with an onion gravy.
Total Cook Time

1 hr 45 mins

Ingredients of Raan Mussallam
1 leg of mutton (about 1 kg)-gashed deeply all over
2 cups dahi (yogurt)
1 Tbsp ginger paste
1 Tbsp garlic paste
1 Tbsp salt
1/4 cup chopped katcha papita ( raw papaya)
1 tsp chilli powder(Kashmiri Mirch)
2 medium onions-sliced fine and fried brown
4 chhoti elaichi (green cardamoms)
10 laung (cloves)
2 badi elaichi (black cardamoms)-seeds only
1/2 tsp broken pieces of dal chini (cinnamon)
1/4 tsp grated jaiphal (nutmeg)
2 blades javitri (mace)
1 tsp kala jeera (black cumin seeds)
2 tsp khus khus (poppy seeds)
1 tsp kewra water (vetivier) - optional
Kneaded dough to seal the saucepan
2 Tbsp malai (clotted cream) and 2 Tbsp blanched chopped almonds for garnish
*ask the butcher to remove all the fat, and bend it at the knee
1.
1. Make deep cuts into the meat on both sides, like a cross design-- for marinade to seep through.
2.
2. Mix the dahi, ginger, garlic, papita, salt and pepper well together. Smear this mixture all over the leg of mutton and leave to marinate overnight or 6 hours at least.
3.
3. Heat enough ghee in a broad pan as will take in the onions comfortably (the onions should be covered with the melted ghee). Add the chhoti elaichi and when it changes colour add the onions in it and fry till brown and crisp.
4.
4. Lift off half of the onions and grind them to a paste along with the laung, badi elaichi, dal chini, jaiphal, javitri, kala jeera, and khus khus.
5.
5. In the remainder of the onions, add the meat and turn around to seal the juices, over high heat. Cover, lower the heat and cook till the meat is tender, turning every half an hour.
6.
6. In case the meat gets tender before the liquid dries up, increase the heat, adjusting it such, that it should cook through and the fat should separate about the same time.
7.
7. When tender, add the ground onion paste and the kewra, seal the lid with kneaded dough (which is oiled before applying to the lid) and leave over very low heat over a griddle (tawa) for about 1/2 an hour.
8.
8. Alternatively, cook in a moderate oven for 1/2 an hour. Serve garnished with the cream and the almonds.