Story Progress
Back to home
Saada Paratha Recipe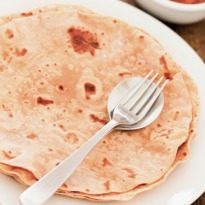 How to make Saada Paratha
Whole wheat plain paranthas smeared with hot ghee. Enjoy this parantha with your favorite vegetable!

Ingredients of Saada Paratha
2 Cups Whole Wheat Flour
For the dough Water
1/2 Cup Ghee
For dusting Dry flour
1.
Knead the flour with water into a soft pliable dough. Cover the dough and leave to rest for at least 30 minutes.
2.
Break dough into 8 pieces, and shape each into a round, smooth ball, using a dusting of flour if it sticks.
3.
Take a ball, and using a rolling pin, roll it into a round.
4.
Smear the surface of the round with a little ghee, fold in half, smear the surface with ghee again, and make another fold from corner to corner, thus making a triangle.
5.
Roll the triangle as thin as you can with a light hand. Repeat with the rest of the pieces, keeping the rolled paranthas covered, while you work on the rest of the dough.
6.
With enough practice, you will be able to work fast enough to roll one and fry the other at the same time.
7.
Heat the griddle till very hot. Place a parantha on it and lower the heat a bit.
8.
When the edges start lifting slightly, make a trail of ghee along the outer edge of the parantha, so that some ghee trickles under it.
9.
When underside is golden brown, smear some ghee on uncooked surface, increase heat and turn the parantha over.
10.
Lower heat and cook on the other side. Serve hot.